Dingle town is located in southwest Ireland on the Dingle Peninsula facing the Atlantic sea. National Geographic once described it as the most beautiful place on earth. It is an extremely popular tourist destination.
Since 1984 Fungie the friendly bottlenose dolphin has been living along the harbour and in close contact with people. There is a statue dedicated to Fungie outside the Tourist and Information Office in Dingle town. He is well known to interact playfully with swimmers and surfers. Boat trips are available along the harbour offering tours to take you to see Fungie swimming and diving in the waters of the Dingle Peninsula.
Dingle is Ireland's largest Gaeltacht town and you may hear a lot of the residents speaking Irish. The list of activities and things to do here is endless, including horse riding in the surrounding mountains taking you along the shoreline and through the old town. But first lets take a look at the variety of accommodation available to you for your stay in Dingle!
---
10 Things To Do In Dingle :
Here we have our 10 top things to do in Dingle and the Dingle Peninsula in no particular order.
---
1 – Dingle Oceanworld Aquarium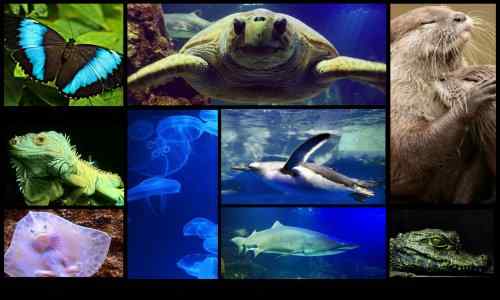 Dingle Oceanworld Aquarium is the largest aquarium in Ireland hosting a collection of magnificent fish, sand tiger sharks, penguins, Asian short clawed otters and reptiles. Some of the fish include seahorses, pufferfish, catfish, clownfish and piranhas. Learn about these beautiful species along the way. There is a touch tank allowing you to stroke the friendly Rays and hold a Starfish and walk through the aquarium's glass underwater Tunnel Tank. When you are leaving the Aquarium there is a gift shop with many souvenirs available. An enchanting experience and a great day out for all the family whatever season you visit as it is open all year round.
---
2 – Take A Boat Trip And See Fungi The Dolphin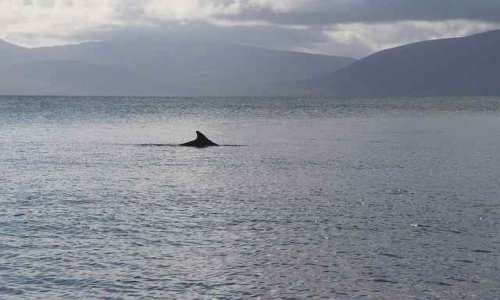 Fungi the friendly Dolphin is a resident in Dingle with over three decades. He arrived in the area in 1984 and has stayed here since, welcoming visitors swimming playful alongside boats crossing the harbour. He was originally noticed by the Dingle Harbour lighthouse keeper when he saw a lone dolphin escorting local fishing boats to and from the port. On several occasions he has been seen eating Garfish, a species which is not a dolphins usual diet. Fungi is a playful companion to all humans including swimmers, divers, and canoeists. You can take a delightful boat trip from the harbour and watch Fungi splash and play through the waters of the bay. A much loved bronze statue dedicated to Fungi on the harbour front.
---
3 – Go Kayaking In Dingle Bay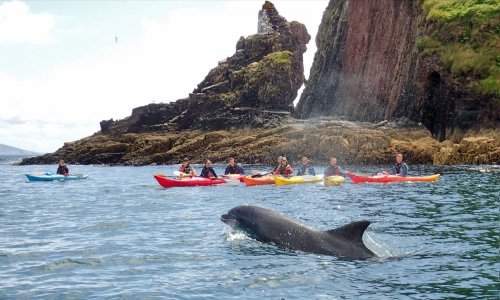 Take a Kayak and explore Dingle harbour, explore the sea caves and meet Fungi the dolphin. Suitable for all ages from 10 years upwards and from beginners to advanced. The Dingle Peninsula is a fantastic setting for kayaking as it has some great well sheltered natural bays. Kayaking is a great way to see the coast that are inaccessible from land.
---
4 – Take a Tour In Dingle Distillery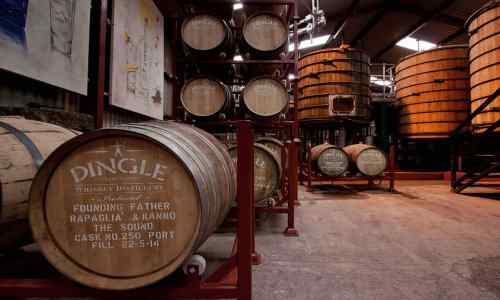 Enjoy a tour in Dingle Distillery where you will see they facility and the entire production process. Two hundred years ago Ireland had over one hundred distilleries but by the turn of this century there was only two. It was established in 2012 and released their first whiskeys in 2016. The Dingle distillery is located just 2 km from Dingle town.
---
5 – Visit The Dingle Crystal Workshop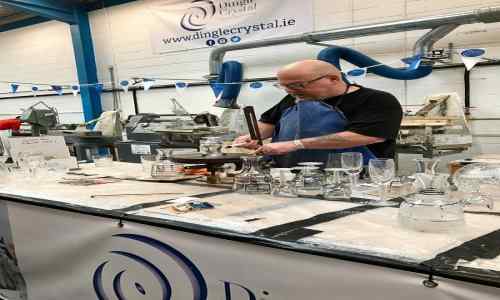 Dingle Crystal is a family run business located on Green Street in Dingle town. It was founded in 1999 by Sean Daly, who is one of the very few artisans that craft crystal in Ireland today. He began his career with Waterford Crystal and reached master level cutter and designer. The studio and shop carries on an age old tradition of mouth blown and deep cut crystal. Dingle Crystal is authentically Irish and has also gained attention of high profile celebrities that are known to be regular customers for years. Their factory is located 2 km from the town and is open for demonstrations where you can see Sean Daly create beautiful crystal right before your eyes.
---
6 – Visit Gallarus Oratory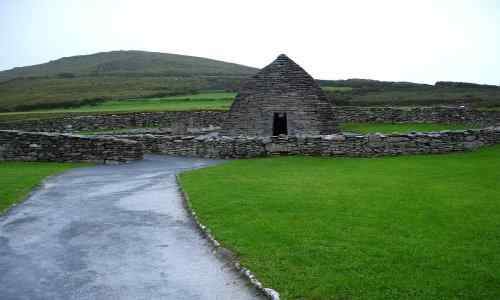 Gallarus Oratory is located on the western tip of the Dingle Peninsula. This iconic Oratory has a distinctive appearance and is built entirely from locally sourced stone that was brought from the cliffs of the seashore. It is believed to have been built in the 11th / 12th century. Inside this small chapel it is 3 metres wide and and almost 5 metres long. The stunning Gallarus Oratory overlooks the harbour. It is a rare opportunity to see such an ancient building and its free to visit.
---
7 – Fahan BeeHive Huts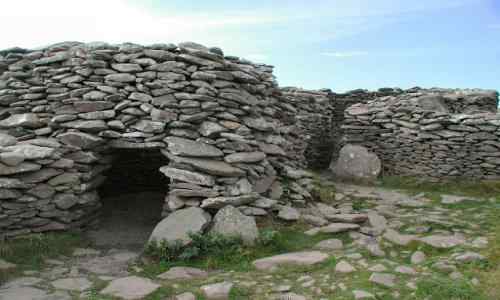 Visit a rich piece of Irish history 14 km from Dingle town. The Fahan BeeHive Huts are said to be the most remarkable in the country. They get their shape from the ancient method of construction known as drystone corbelling. Their origin remains a mystery but is believed that date back to the start of Christianity. Also during your visit you can hold a baby lamb, watch the farm sheepdog doing his important work, enjoy a cup of tea and learn about life in the old farmhouse.
---
8 – St.James Church Dingle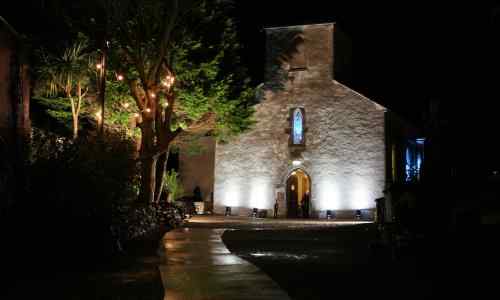 St. James' Church in Dingle welcomes everyone to share their beautiful spiritual place. It is a much loved place of worship for both locals and visitors. It is also a unique venue for cultural events and concerts.
---
9 – Irish Famine Cottages And Sheepdog Trials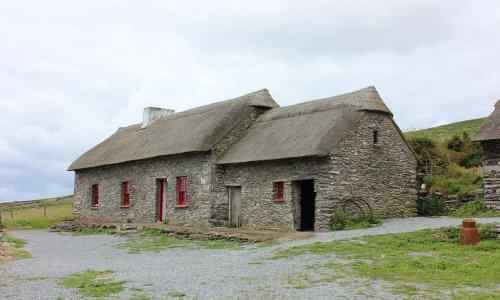 The Irish Famine Cottages are an enchanting but also haunting experience where you get a true feeling of what it was like during the devastating Great Irish Famine. The cottages were originally built in the mid nineteenth century and housed a family from County Kerry. The remoteness in West Kerry caused the area to suffer greatly during the famine. A family that lived in the house in the late 1800's had a very sad tale to tell. Six of their children died at birth and are buried close to the cottage where a stone cross marks they grave. Surrounding the main cottage there is smaller cabins. The cabins are built from mud and stone. Wood was also used from shipwrecks that washed up on the nearby cliffs.
Now located on the grounds there are sheepdog performances where you can view a local sheep farmer working his sheepdogs as they skilfully gather and control the sheeps movement. This skill has been handed down from generation to generation. The Irish Famine Cottages are located approximately 14 km from Dingle.
---
10 – Riasc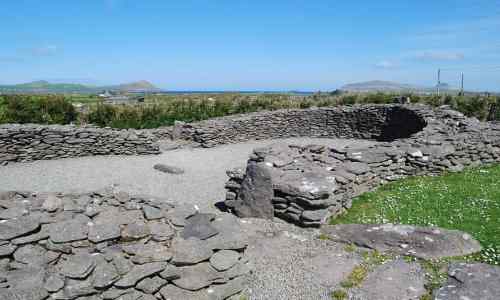 Riasc is a ruined Monastic Site located approximately 11 km from Dingle town. The site gives good insight into the layout of small monasteries of the Early Medieval period. These amazingly preserved stone remains are set in the beautiful countryside down a remote road. Tip: Some maps may spell the Irish word Riasc with the translation Reask, this may help you find this site.
Accommodation :
Hotels :
1 – Skellig Hotel & Peninsula Spa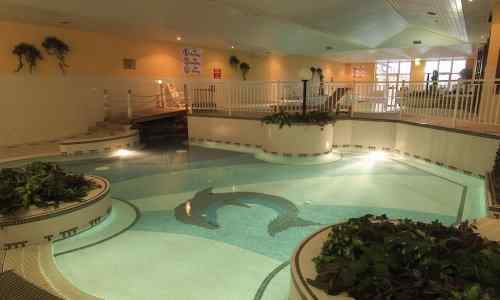 The Dingle Skellig Hotel and Spa offers excellent views and has a variety of rooms available from classic, superior, deluxe, executive to presidential suites. Ideal for all the family with lots of activities and a Fungi kids club. Breakfast is included in all of the hotels rates during your stay. With day and evening bar menus available there is plenty to choose from as well as the Coastguard restaurant serving a selection of dishes using local produce.
2 – Benners Hotel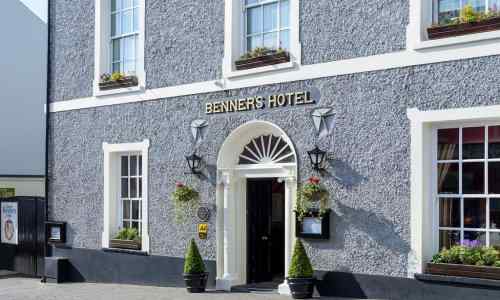 Benners hotel is located in the heart of Dingle town. It has a long standing history of award winning food and warm welcomes. Choose from Classic, Superior or Four Poster guest rooms. The hotel is a member of Original Hotels, a guaranteed Irish Hotel. Breakfast is included with their rates. Wifi is available along with free complimentary parking.
3 – Dingle Bay Hotel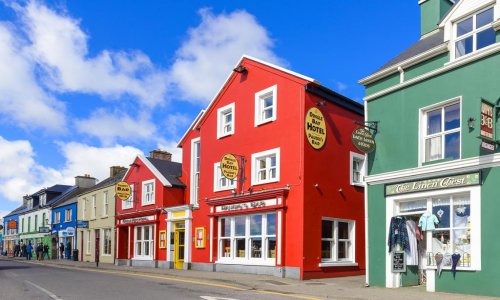 The Dingle Bay Hotel combines traditional family welcome with the best modern facilities and is ideally located in the heart of the town. After returning from a day of sight seeing the spectacular Dingle peninsula there will be spectacular comfort awaiting you. From heated bathroom floors, direct dial telephone and free Wifi. Or put your feet up and relax with multichannel TV. There is a variety of facilities available.
4 – Dingle Peninsula Hotel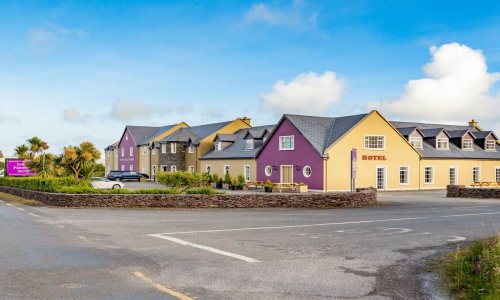 Dingle Peninsula Hotel is located only a short distance from Dingle town. It is a modern, classic hotel with a traditional Irish country pub where you can meet the friendly locals. Home style fresh food is on the menu made from local produce, alternatively try some continental Tapas. Many activities are available on the hotel's doorstep including boat trips to see Fungie, swimming, fishing, sailing, rockclimbing, cycling or golf on an eighteen hole golf course. A free shuttle bus is provided and they are very happy to drop you off from any local destinations. The Basket Islands are close by where scenes of the the latest Star War movie was filmed.
5 – Hotel Base Dingle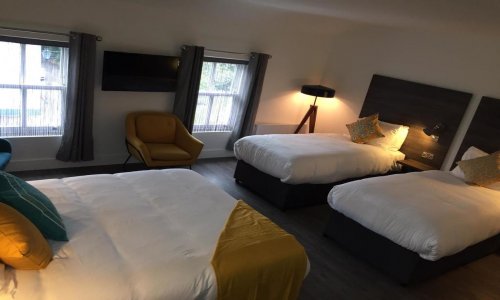 Hotel Base is located on Bridge Street in the centre of Dingle town. Ideal location for days you are just exploring the town and the harbour as it is approximately just a 10 minute walk from Dingle Oceanworld. Enjoy free Wifi and bottled water. The room's 42 inch TV's have premium digital channels and Netflix.
Guesthouses :
1 – Barr Na Sraide Inn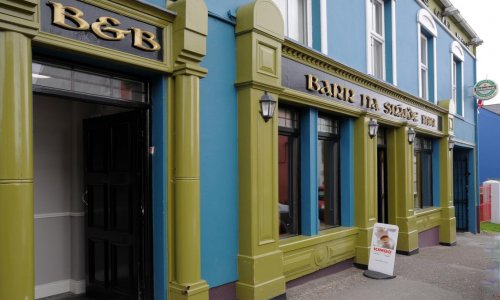 Conveniently located in the heart of Dingle town is Barr Na Straide. It is a family run business with over 33 years. They offer a variety of elegant and spacious rooms including single, double, triple and family sizes. Their legendary breakfast cater for a wide variety of dietary requirements with plenty of selection to choose from. Parking is free in Barr Na Sraide's private off street car park.
2 – Alpine Guesthouse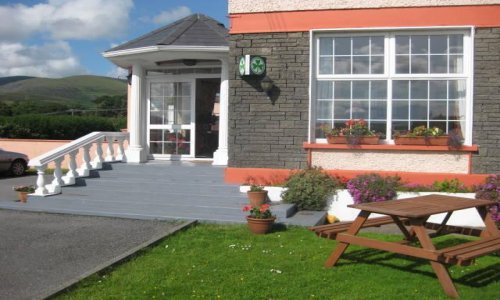 Alpine Guesthouse is located within a few minute's walking distance from Dingle's bustling town centre. The family run traditional guesthouse offers free Wifi and parking. Dingle marina is just 700 metres away. All the rooms are cosy and ensuite.
3 – The Waterfront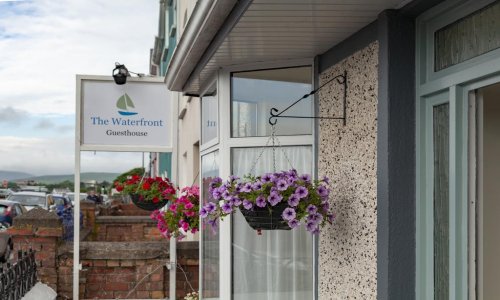 Located in the heart of Dingle town you will find The Waterfront Guesthouse. All rooms have a spectacular view of the harbour and a guest lounge is available with a TV and beverage making facilities. All the restaurants, shops and pubs are within walking distance. The nearby traditional pubs have nightly music sessions for you to enjoy.
4 – Emlagh House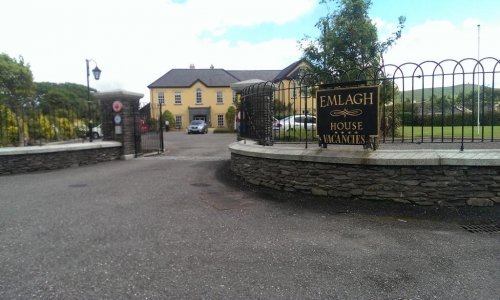 If toy would like to stay in a gracious country hotel with warmly furnished rooms Emlagh House is just for you. It is located on the edge of Dingle town with views of the bay. There is free Wifi throughout and also free parking. Each luxurious room is individually designed with a flat screen TV with a king or queen size bed. Shops, restaurants and all local amenities are just a 5 minute walk from Emlagh House.
Related Posts
Check out our most recent posts