Eyeries Village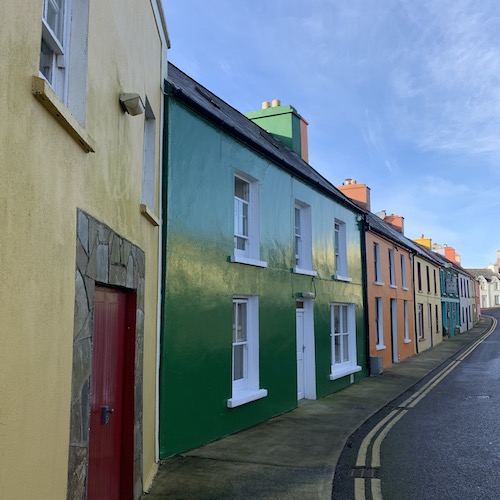 Eyeries is a beautiful colourful village located on The Beara Peninsula in County Cork. It is one of the most South – Westerly villages in Ireland and overlooks Coulagh Bay and the mouth of the Kenmare River. It is ideally perched on the Wild Atlantic Way and boasts some of the most amazing views in Ireland. It is approximately 17 km from Allies village and its beautiful beach. The village lies at the base of Maulin, that is the highest peak in the Slieve Miskish mountain range. It stands at 2,044 ft tall. During the Summer season Bus Éireann runs a service to the area.
We stayed in Eyeries Motorhome Park for one night while we toured the Beara Peninsula. It is just a few minutes walk from the village. Read more about the friendly motor park home just below. Eyeries village has won several awards in the annual tidy towns competition. It has also won in the All Island Best Kept Places Competition in 2012. It is no surprise that people return here year after year.
Things to do in Eyeries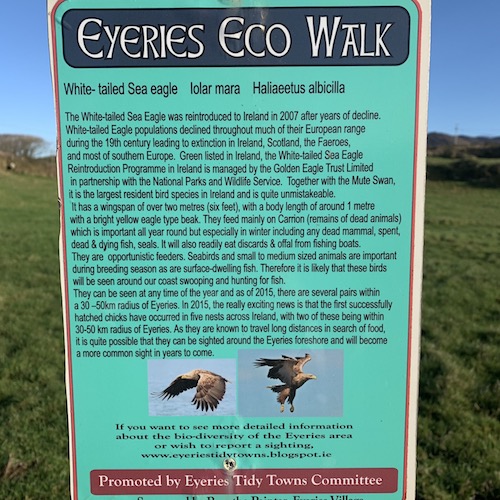 There is a few things to see and do in the village. It has great looking shops, cafes and bars. Unfortunately when we stayed a lot of these were closed due to the Covid restrictions but we will be back and update you on any that we missed out on seeing. If you are lucky enough to have dry weather the walks around the area are fantastic too.
Eyeries Eco Walk
You can choose from two looped walking trails from Eyeries or as one long walk that starts and ends at O'Sullivans foodstore. We went on this peaceful walk in the morning. Every local we met had a friendly word and a smile. The narrow road towards the strand has a slight slope. There is amazing views guaranteed at the rocky shoreline. Don't forget to bring your comfortable shoes.
St Kentigerns Church, Eyeries
St. Kentigerns Catholic Church is in the centre of Eyeries village. It is a beautiful little church with the most amazing stained glass windows that were designed by George Walsh. For one of Colin Farrell's first movie roles in 1998 he starred in 'Falling For A Dancer'. Some of the scenes for this film were recorded inside the church over 2 decades ago.
Anam Cara Writer's and Artist's Retreat, Eyeries
Anam Cara Writer's and Artist's Retreat is a project in the village. They provide accommodation and support for creative workers and writers to help develop ideas. The retreat has private rooms and a library. There is also extensive quiet grounds with private working locations along the way. In these garden settings there is a duckpond, meditation huts, a labyrinth and an accessible island within the small landscaped river. There is also a sauna and hot tub where guests can relax.
Crime fiction fans may be familiar with the author Yve Wiliams also known as Alex Barclay. The Dublin born former journalist moved to Eyeries after attending the Anam Cara Artist's Retreat. She loved the Beara Peninsula and felt it was great location for writing, away from the hustle and bustle of the city.
Types of accomodation in Eyeries
Motorhome Park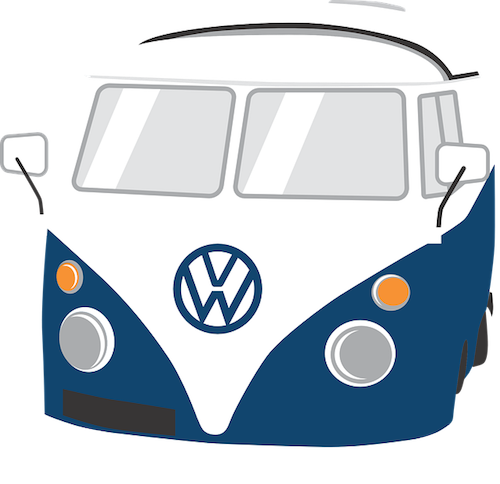 Eyeries Motor Park Home
On our first night in the village we stayed in Eyerie's motor park home. The family run business is located a few minutes walk from the village centre. Personally we felt that they are very friendly and accommodating. It was after dark when we arrived and it was hassle free. We were given the code to enter the site and we were also given the WiFi password over the phone. If you are arriving late I would recommend getting the password before you enter the village because some networks have no mobile phone coverage. This is ideal if you need a rest from the world of technology but we felt it was handy to have access to the internet for different reasons, like watching a film on Netflix before we slept! There are spaces available with electric hook up for a small extra fee. If you don't need it there is also some spaces without it.
All the facilities you need are available onsite. There is a grey water disposal and a chemical toilet disposal area at the back of the park. You can also top up on your fresh water. There is a cafe at the entrance to the park but this was closed during our visit due to Covid19 restrictions.
Glamping Pods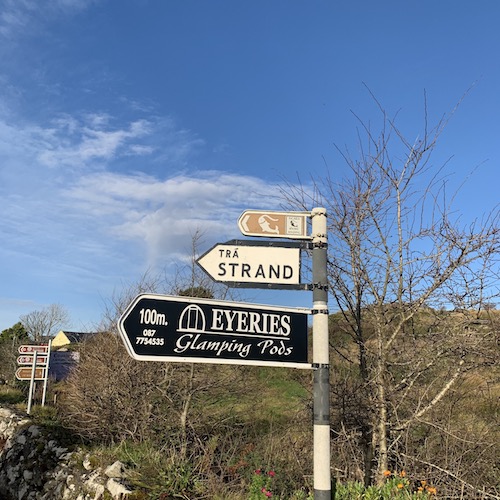 Eyeries Glamping Pods
Eyeries Glamping Pods are located on the edge of Eyeries village. We did not stay there during our visit but we checked them out. They are luxury built timber framed glamping pods with stunning mountain views, set in a working beef farm that will look after all your needs. If you enjoy nature these are just for you. The pods are similar to mini apartments and hold two adults. They have a luxury double bed and come fully equipped with a mini kitchen. This contains a microwave, mini fridge, electric kettle and sink. There is also a convenient bathroom area. The owners live nearby and are at hand to help you with any questions you may have. Pets are not allowed but you may see some dogs, bunnies, cats or cows passing by! Parking facilities are available onsite.
Camping
Solas More Tent Camping
Solas Mor Tent Camping is located in Eyeries village. Again we have not stayed here but we also checked this out for anyone that is planning on camping in the village. At this site you can enjoy the stunning views of Coulagh Bay and have the use of shower and bathroom facilities, WiFi and their outdoor furniture. If you are looking for peace and serenity during your camping trip Solas Mor Tent Camping is ideal. It is just a few minutes walk from all local amenities including the local shop and post office. There is also a public toilet nearby.
Guesthouses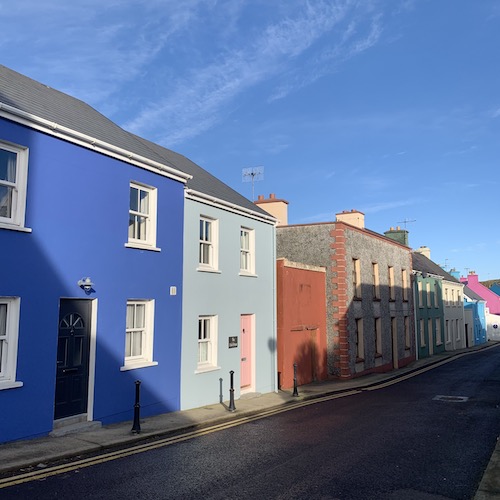 Coulagh Bay House, Eyeries
Coulagh Bay House is located just on the edge of Eyeries village. You will be spoilt with beautiful sea, village and mountain views. The welcoming guesthouse have quoted that 'You may arrive a guest, but you will leave a friend'! There is a spacious sun lounge at the front of the guesthouse for maximum views. It is a perfect base while you enjoy you experience along the Beara Way walking and cycling routes. Castletownbere is approximately 8 km from the guesthouse and there you can watch the trawlers unload their day's catch in Ireland's largest white fishing port.
Choose from double, twin, triple or family rooms all with bathroom facilities, TV, WiFi, hairdryer, iron and tea and coffee making facilities. A delicious selection is on offer every morning for breakfast catering for various dietary needs. If you are looking for the guesthouse the postcode is : P75 HC04
Atlantic Way Farmhouse B&B, Lower Gort, Eyeries
Atlantic Way Farmhouse B&B is located approximately 5.7 km from the village as you travel towards Allihies village. It is on the Will Atlantic Way and nestled in the Urban Valley overlooked by the Caha Mountains. There are stunning countryside views with lots of historic walkways and trails to explore.
Cappa House Self Catering and B&B
Cappa House Self Catering and Cappa B&B are renovated farmhouses located approximately 1.3 km from Eyeries village. The 'Stonehouse' and the 'Stable' are two one bedroom cottages. The bed and breakfast offers three ensuite family bedrooms that can accommodate up to 4 people.
Pictures Of Eyeries Village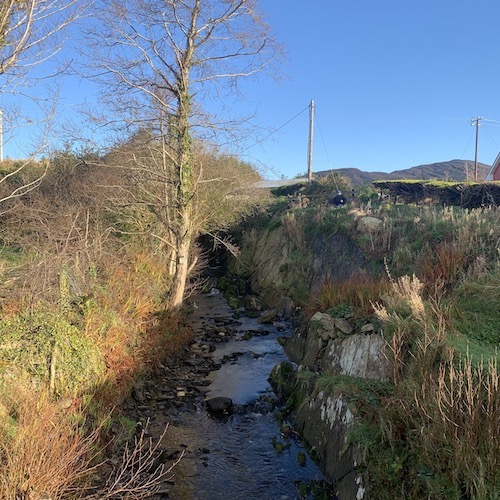 ---