Where would we start to describe Killarney. In one word, beautiful! It is located in County Kerry. This county also known locally as 'The Kingdom'. It is a bustling picturesque town surrounded by some spectacular scenery, mountains and 19th century buildings, including St. Mary's cathedral.
There is endless walking trails and parks. It is the beginning and finishing point for the Kerry way walking trail. Home to the Victorian mansion called Muckross House that is surrounded by breathtaking gardens. It is also a stop on the ring of Kerry drive. Riverdance shows are frequently held in the great Gleneagle hotel in the INEC section. There is a cosy cinema located in the town centre.
This welcoming town is best known for its traditional Irish music and entertainment. Killarney has been named one of the top 10 global tourist destinations in the world. When you see the town you will know why! The 'what to do' list is endless, so lets begin. But firstly we'll take a look at the weather to help you before you pack your suitcase.
---
Killarney weather averages
Killarney gets quite a lot of rainfall in between the beautiful sunny days. The wettest month is usually December. The driest is often April. The climate here is classed as temperate and warm. The average annual temperature is approximately 10 and a half degrees. The warmest month is typically July climbing to 15 and a half degrees often climbing to the mid twenties. While January is the coldest averaging approximately 6 degrees.
This varies from year to year so to summarise it all up, it is safe to say you will possibly need your rain coat and umbrella while you comfortably stroll about. There is plenty shops including a Primark store where you can buy any clothing at very reasonable prices. There is an outlet centre in the town with many shops selling goods at discounted prices too. The town has many boutiques. Killarney also has many pubs with traditional Irish music.
---
Things To Do In Killarney
1 – Lakes of Killarney Boat Cruise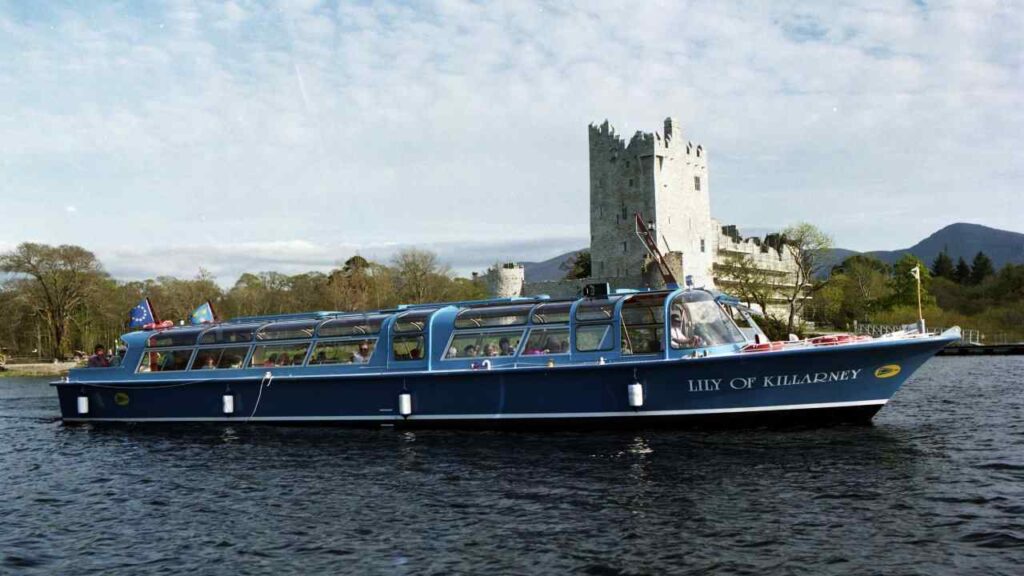 The Lakes of Killarney Boat Cruise is a comfortable and exciting experience. You will travel in a heated glass covered boat while watching the wildlife in Killarney. If you are lucky you will see the beautiful White tailed Eagles and Red Deer with panoramic views of Killarney National Park on the Lakes of Killarney including the towns largest lake Lough Léin, meaning the lake of learning. On this 1 hour cruise your captain will share his knowledge of the history surrounding the area. Also available on request are recorded tours in German and French.
Please Note due to Covid 19 this activity must be booked online as the ticket office is closed. Visitor numbers are limited as social distancing is maintained. All customer touch points are frequently cleaned.
---
2 – Kayaking and Ross Castle Tour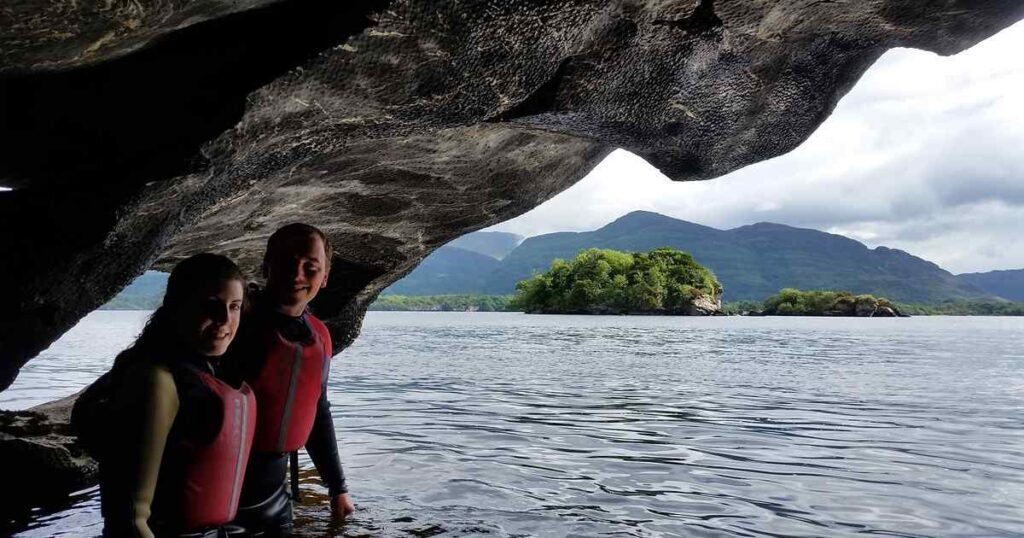 Have a kayak adventure tour in the heart of the Lakes of Killarney, while experiencing the unique history and importance of the 15th century Ross Castle. Here your guide will tell you about Cromwell's ingenious Invasion of the castle. Discover the lakes hidden secrets, myths and legends. In the distance you will see Irelands tallest mountains range, the McGillcuddy Reeks. Small limestone islands dot the lake and your tour will take you to see some of these along the way. You will pass through caves and experience Ireland's oldest National Park. In this 2 hour professional guided adventure wetsuits, buoyancy aid, kayak equipment and photos of your tour are included.
---
3 – Horse & Carriage Jaunting Car Tour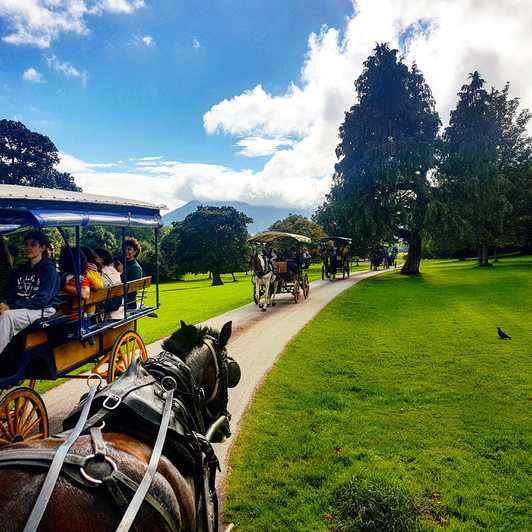 Enjoy one of Ireland's famous traditions and book a jaunting car tour. This one hour jaunting car tour will take you through the beautiful town of Killarney by horse and carriage. Here you will see some of the towns parks, pass by St.Mary's Cathedral and the 15th century medieval Ross Castle. Take a step back in time in a horse drawn carriage as you explore peaceful areas where traffic is not permitted. All weather conditions are catered for and the carriages have waterproof covers. Blankets are also provided. Don't forget your camera!
---
4 – Jaunting Car Tour with Craft Brewery Visit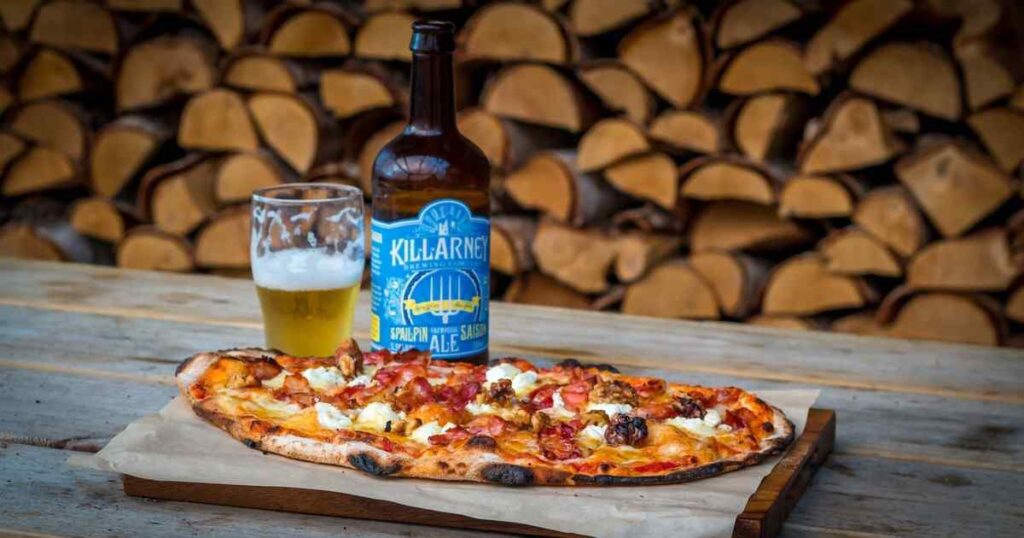 This traditional jaunting car tour is similar to my previous post (number 4 in things to do in Killarney) but in addition you will visit a Killarney Brewery. Here you can sample the finest of Killarney craft beers that are inspired by local myths and legends, or a soft drink and wine if you would prefer. These will be complimented by a selection of hand crafted 12 inch pizza. What a perfect evening after a memorable trip. The Jaunting Car Tour and Craft Brewery Trip takes approximately 3 hours.
---
5 – Kayaking Tour and Innisfallen Island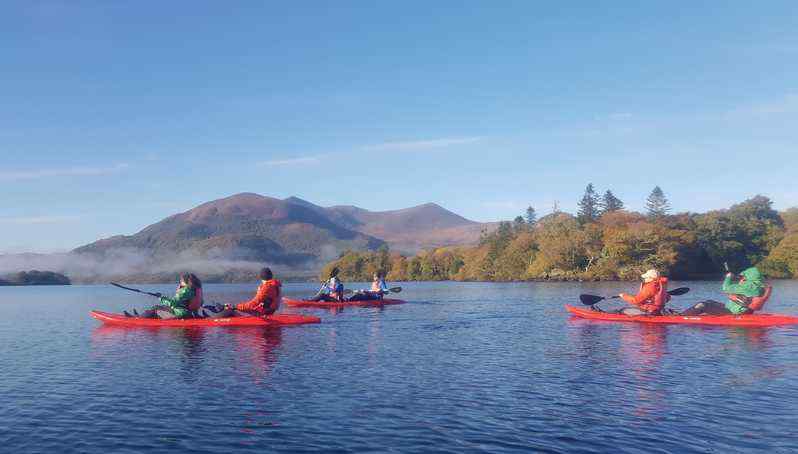 Have a kayak adventure tour in the heart of the Lakes of Killarney, while experiencing the unique beauty of Innisfallen Island that is rich in history and diverse wildlife. Discover the lakes hidden secrets, myths and legends. While kayaking through the glistening waters your tour will start by Ross Island, that is made up of limestone. Next up is Innisfallen Island where you may be greeted by sika deer. In this 3 hour professional guided adventure wetsuits, buoyancy aid, kayak equipment and photos of your tour are included.
---
6 – Jaunting Car & Lake Cruise Tour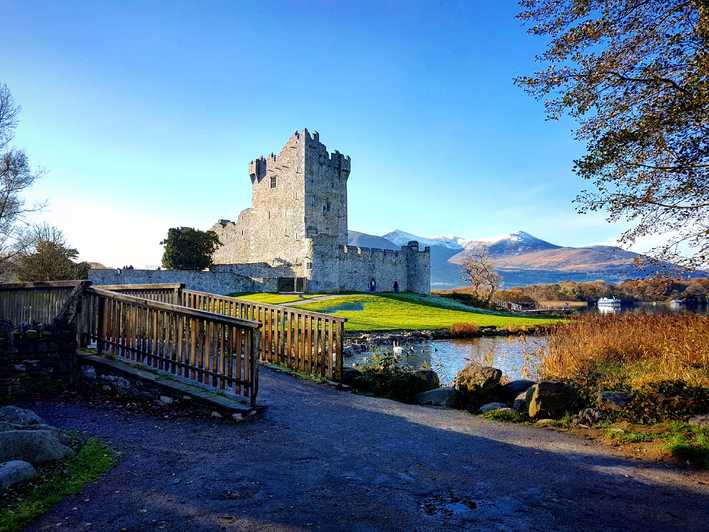 The combined Jaunting car and Lake Cruise will take you from land to lake to provide you with a unique guided tour. It is a must for every guest that visits Killarney. It is an ideal way to see Killarney National Parklands on a traditional jaunting car combined with the stunning lake cruise in a 2 hour trip. After your trip in the comfortable jaunting car visiting peaceful areas with no motor traffic you will arrive arrive at your cruise. Here you will learn from your knowledgeable captain about the ancient copper mines dating back 4000 years on Ross Island and you will drift by the 6th century Innisfallen Monastery that was founded by the Augustinian monks.
Please Note due to Covid 19 this activity must be booked online as the ticket office is closed. Visitor numbers are limited as social distancing is maintained. All customer touch points are frequently cleaned.
---
7 – Carrauntoohil Guided Hike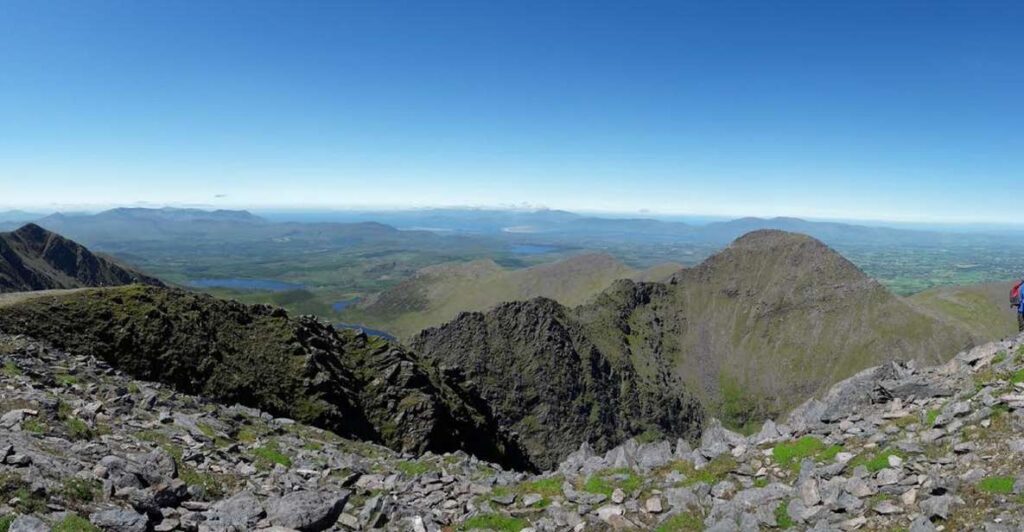 Carrauntoohil Mountains stands at 1039 metres, Binn Chaorach at 1010 metres and Caher at 1001 metres. These are all forming the MacGillycuddy Reeks. On the day of your climb you will be provided with a qualified and highly experienced mountain guide that will share a wealth of information with all you need to know, gained from many years of experience spent climbing. All you need is suitable footwear, clothing packed lunch and a sense of humour, ready for the challenge and they will look after the rest! There are different levels catered for from difficult, strenuous to challenging .Ranked number 1 on TripAdvsor for all outdoor activities in Killarney all hikers may be booking with the best! Link to guided tours below.
---
8 – Ring of Kerry Full-Day Tour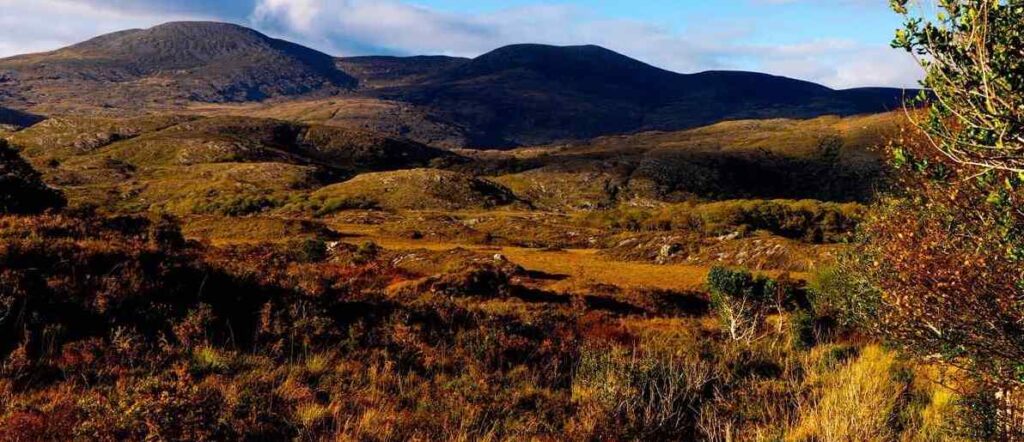 To explore the dramatic Ring of Kerry landscape take a 10 hour tour from Killarney. Here you will discover the most mystical and unspoiled region of Ireland. After immersing yourself in the Ring of Kerry you will see one of Ireland's most beautiful parks, Killarney National Park. Afterwards you can marvel at Torc Waterfall through the woods at Friers Glenn. In Waterville see the statue of Charlie Chaplin and then go on to some Leprechaun hunting! After departing Killarney you will arrive at the Iveragh Peninsula which is the official name for the Ring of Kerry. Along the way you will get insights into the ancient heritage of Ireland. From stone forts to the landscapes carved out of roc in the Ice Age.
Driving through Killorglin, the hometown of Puck Fair that has an ancient Celtic festival dating back to 1613, the oldest festivals in the world, every year a goat is crowned the "King of the Village". An experience not to be missed and local stalls sell their goods along the street during the festival. Weather permitting there will be more sights to see including the Blasket Islands off the Celtic shores of the Atlantic Ocean.
The next stop is the picturesque village of Waterville that over looks Ballinskelligs Bay. You will see the misty Skellig Rocks that is known for its early Christian monastery while discovering the statue of Charlie Chaplin in the village. Another local village named Sneem is most colourful with 2 squares with a beautiful bridge covering their local river with currents from Kenmare Bay.
There is a lot more to see on the Ring of Kerry tour including Killarney National Park, Molls Gap and Ladies view also known as Leprechaun Crossing and Torc Waterfall in the woods of Friars Glenn.
---
9 – Visit Muckross House & Gardens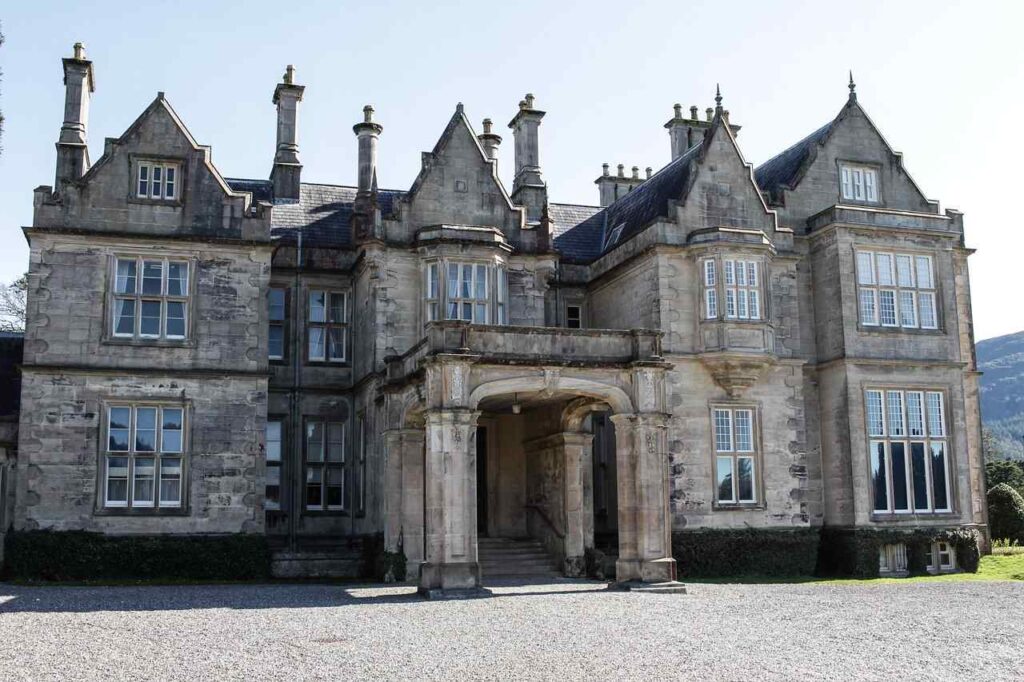 Visit Muckross House, Gardens and Traditional Farms. This nineteenth century mansion is set against the beauty of Killarney National Park. Nearby stands the shores of Muckross Lake famed worldwide for its splendour and beauty. The house was built for Henry Arthur Herbert and his wife, the water colourist Mary Balfour Herbert. The well known Scottish architect William Burn was responsible for its design when the building commenced in 1839 and completed in 1843. Originally it was intended Muckross house should be larger. The plans for bigger wings were altered by Mary's request. Today the principle rooms are furnished in period style.
---
10 – Visit Torc Waterfall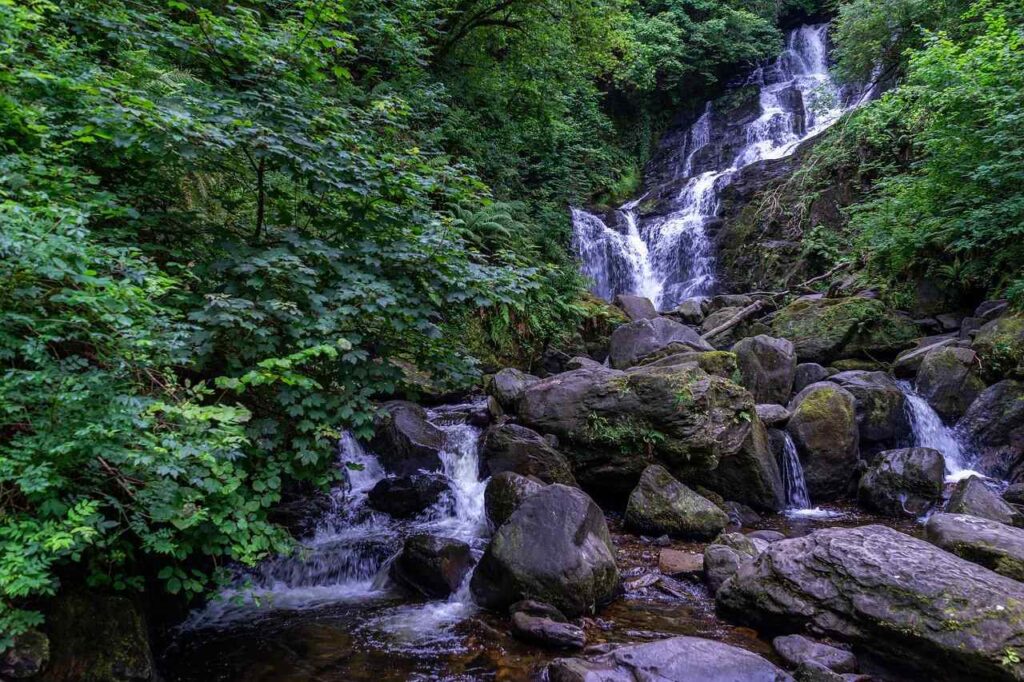 Torc Waterfall is approximately 7 kilometres from Killarney town standing at approximately 20 meres high. It looks most striking after heavy rainfall . Additionally across the road there are Jarvey cars on hire waiting to take you on your journey to your required destination eg. Muckoss House and the National Park
https://www.killarneynationalpark.ie
---
11 – Visit Killarney House and St Marys Cathedral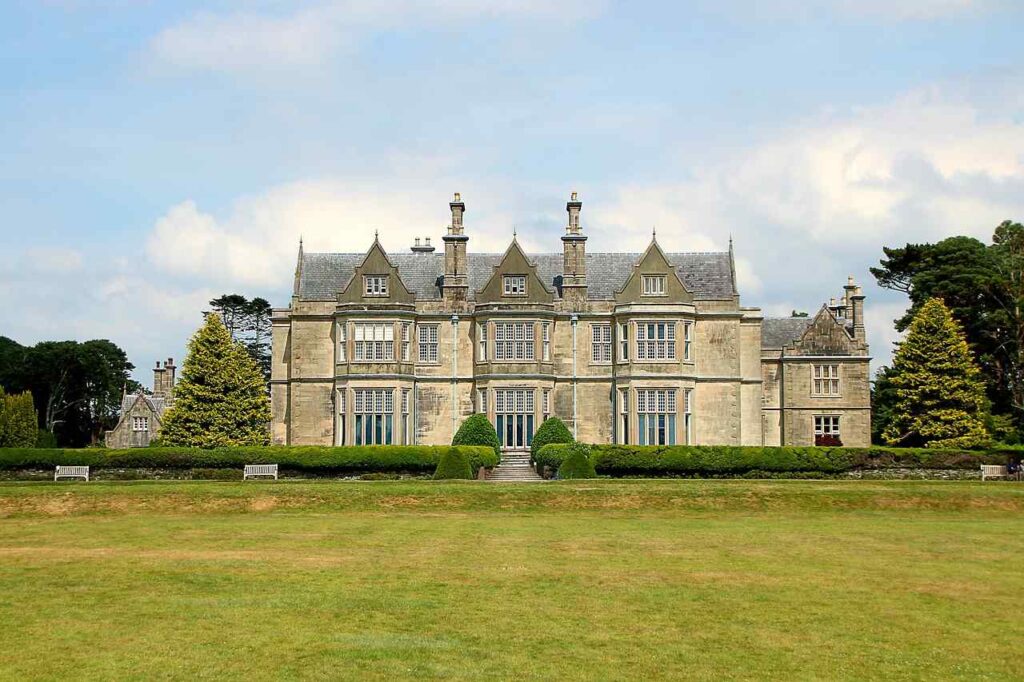 St. Mary's is the Cathedral church of the Catholic diocese of Kerry in Killarney Co.Kerry. The foundations were laid in 1842 but construction ceased for 5 years due to the famine. This gothic style cathedral with its beautiful stained glass windows is just the beginning as you venture though the well preserved interior with stained glass windows and then to the outside grounds. St Mary's is considered one of the most beautiful Gothic-Revival cathedrals in Ireland.
Interestingly across from the cathedral and to the left is a lovely old house originally known as the West End and was recently owned by Michael Fassbender's parents!
Killarney House and gardens is nestled beyond the grand entrance to the national park. Venture through pretty pathways and manicured gardens. A 7 million euro renovation as completed in 2014 after the house had fallen into disrepair over the years. Thankfully the magnificent building was reopened to the public in 2017.
---
12 – Go Shopping In Killarney Outlet Centre
Visit the Killarney Outlet Shopping Centre for well known brands at discounted prices of up to 70% off the normal retail prices. Save on designer brands all year round. Stroll around many different shops or have some food in O Brien's cafe. The Nike store, Tiger, The Army Surplus store and Leading Labels are just a few of the well loved shops in the Outlet Centre. Seasonally, local people sell their goods in stalls along the centre of the large hallway.
---
13 – Watch A Movie In Killarney Cinema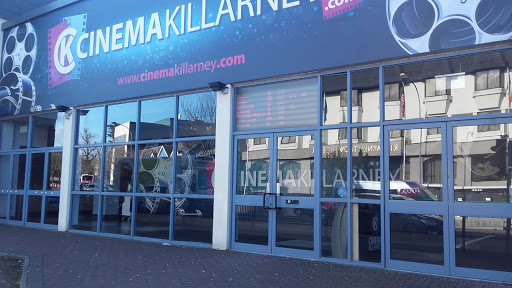 Cinema Killarney is ideally located in the centre of the town. Showing all the latest movies, theres always something for all the family. Perfect for one of those rainy evenings. Sit back with some fresh popcorn, treats and enjoy!
---
14 – Visit Some Of Killarney's Famous Traditional Irish Pubs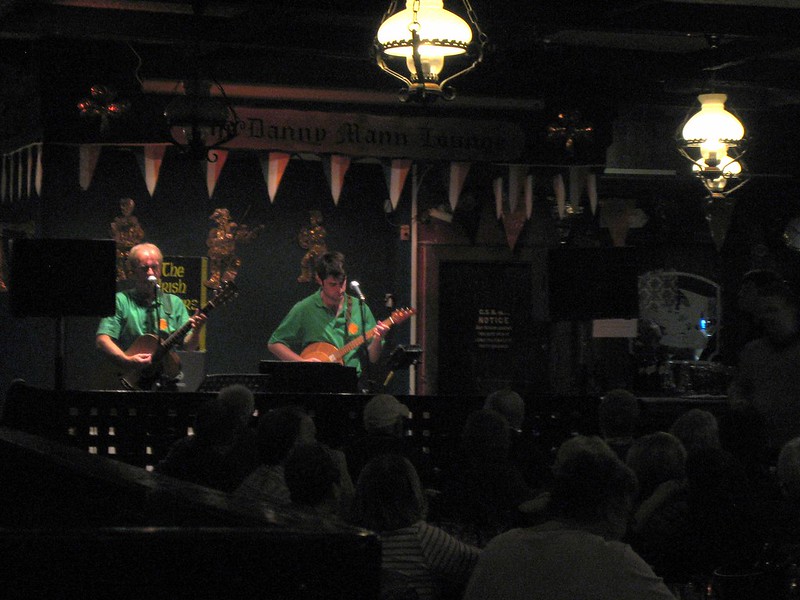 After a busy day in Killarney what better way to relax and soak in the atmosphere than in one of the traditional Irish pubs. There are many to choose from with over 50 in the town. It is difficult to choose just one so we will leave that up to you, so explore and enjoy!
---
15 – Gap of Dunloe & Lakes of Killlarney Boat Tour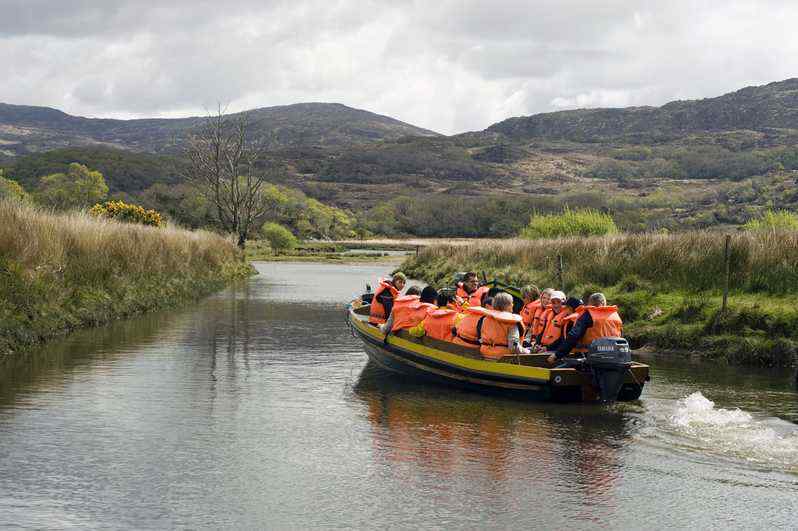 This unique tour offers you the experience of exploring the amazing Killarney National Park and Lakes of Killarney by boat. Enjoy a 2 and a half hour walk through the Gap of Dunloe. Your tour begins at Kate Kearney's cottage. Here you can arrange to travel through the six mile pass on a jaunting car if you would prefer or alternatively you can hike at your own pace. Once you pass through the gap boats will be waiting at the other side to take you through the Lakes of Killarney.
Please Note due to Covid 19 this activity must be booked online as the ticket office is closed. Visitor numbers are limited as social distancing is maintained. All customer touch points are frequently cleaned.
---
16 – Visit Ladies View & Molls Gap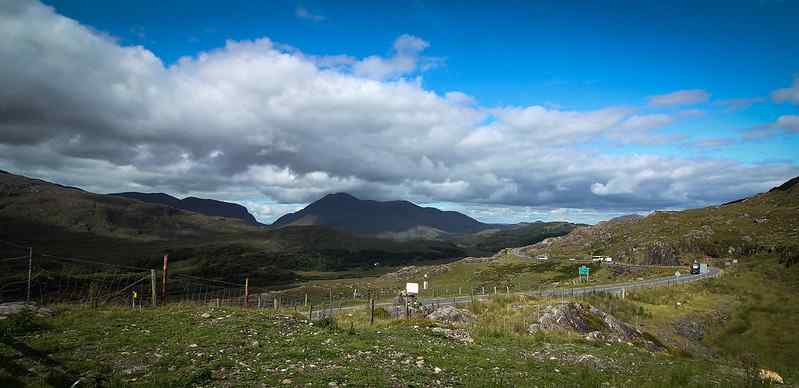 You can find Ladies View and Molls Gap along the Ring of Kerry. It is about 12 miles from Killarney as you travel towards the town of Kenmare. The view here is the best known in Killarney and very popular with visitors. It was named after Queen Victoria's ladies-in-waiting after they visited in 1861 as they were so taken with the view.
---
17 – Visit Kennedy's Pet Farm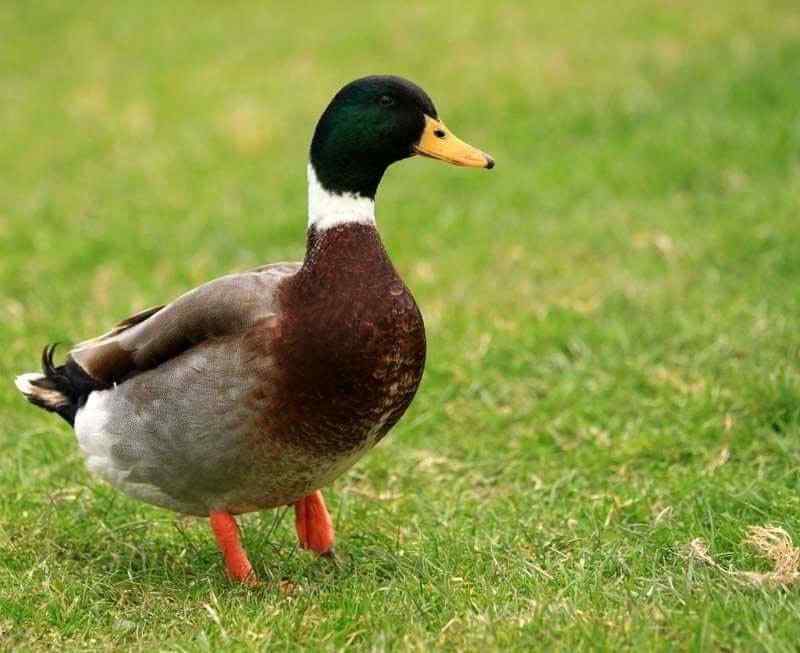 Kennedy's Pet Farm is a must for every animal lover. Located just 10 minutes from Killarney town, it is a fantastic day out for both young and old. Spring is always in the air in Kennedy's Pet Farm as new arrivals are a regular occurrence. You can gently stroke or cuddle the beautiful animals. They have indoor and outdoor playgrounds catering for any weather conditions in a safe and friendly environment. Here is a link to their informative website that contains a map of the farm. https://kennedyspetfarm.com
---
18 – Visit Killarney Falconry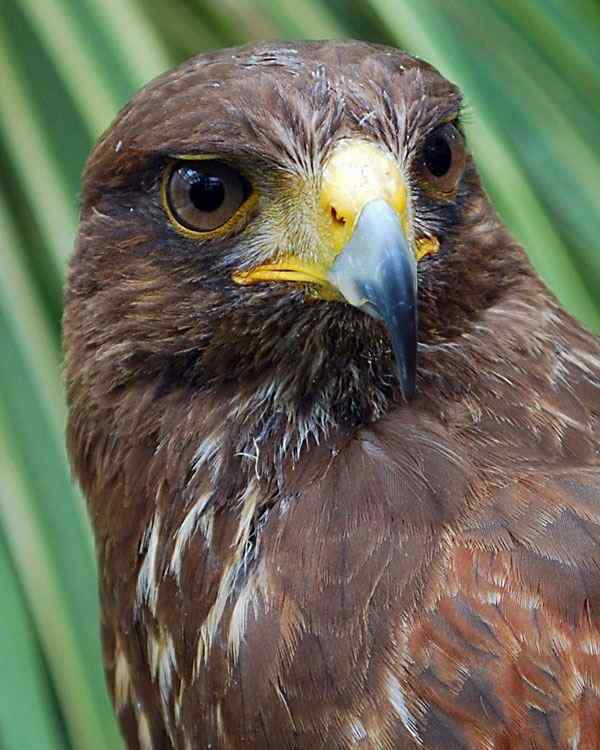 Killarney Falconry provides private or group walks around the beauty of Killarney's Lakeland's. You willl experience the unforgettable moment a hawk swoops from a tree onto your gloved hand. All ages are catered for. Pre booking is essential for this truly amazing experience. Here is a link to their website.
http://www.killarneyfalconry.com
---
Accommodation In Killarney
Accommodation in Killarney is plentiful but often fully booked in the peak seasons. Ranging from 5 star hotels, guesthouses, B&Bs and hostels there is something for all tastes and affordability. Many of Killarney's accommodation and hotels are conveniently located within walking distance of the town centre.
Here is a list and some information on some of the most popular and well known hotels :
---
The Europe Hotel & Resort, Killarney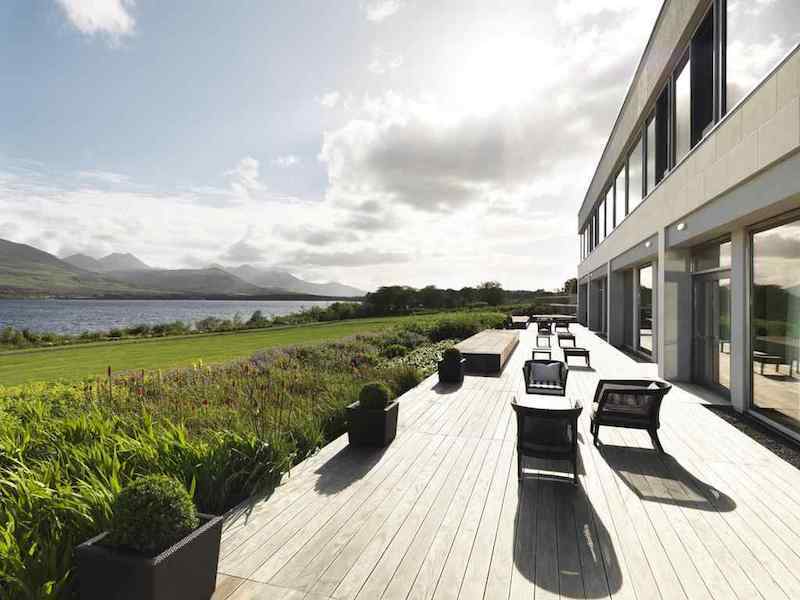 The luxurious 5 star Europe Hotel & Resort is located overlooking the famous Killarney lakes. Relax and unwind in the spa resort after a day of activities on the grounds. Amenities include swimming, spa treatments, fishing, boating, horse riding and golf. The thermal suite boasts a salt water pool, steam room, sauna and ice fountain. There are 16 treatment rooms where you can avail of a range of luxurious treatments.
The Panorama restaurant offers fine cuisine while you take in the views of the mountains and lakes. The Brasserie restaurant serves flame grilled dishes and there is also a cafe serving light dishes. There are fine views from your private balcony overlooking the golf course and one of the famous lakes, Loch Léin.
---
The Lake Hotel, Killarney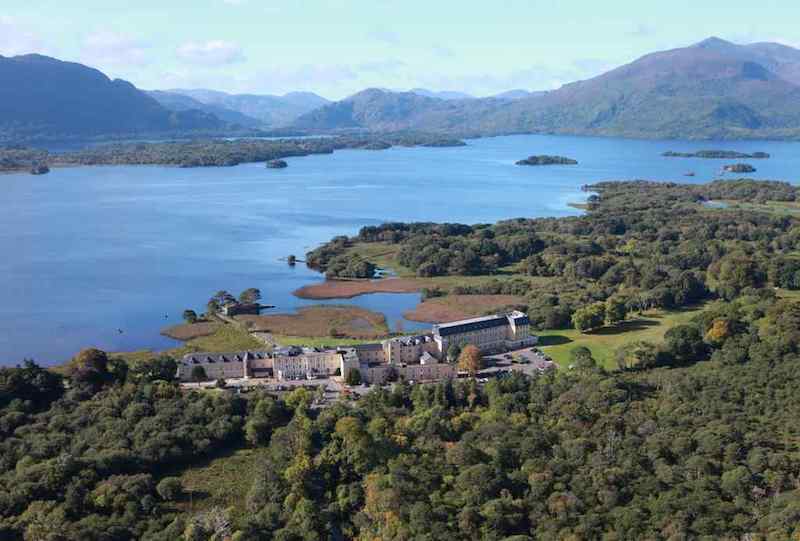 The Lake Hotel Killarney is located 2 kilometres from the town and has a four star rating. Most of the rooms in this family run hotel have magnificent mountain views. Again it is on the shore of Loch Lèin. It also has an outdoor hot tub.
The hotel's Castlelough restaurant serves fine Irish cuisine and afterwards you can enjoy a drink in the hotel's bar. All rooms are en suite and they offer free wifi for their guests. You can stroll through the ancient pathways that lead to the ruins of the 12th century McCarthy Mor Castle.
---
The Killarney Park Hotel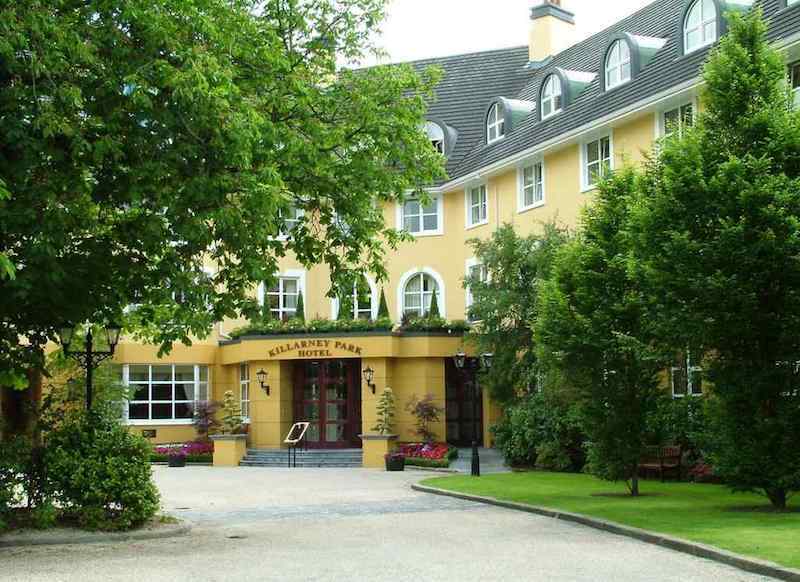 The 5 star Killarney Park Hotel is located in the town centre. It is a family run hotel that is perfectly located beside Killarney National Park. It was named 'Number One Hotel in Ireland' in 2018. Relax after a busy day sight seeing next to the hotel's cosy log fires.
Choose from many different rooms and suites from classic to premium, with different views of either the town or countryside. All rooms are air conditioned and spacious with free wifi. It opened its doors in 1992 and has an indoor pool and spa.
The hotel's Garden Bar offers a bistro style menu. Afternoon tea is served daily by the open fires. If you fancy some barbecue food make your way to the hotels outdoor terrace for some mouth watering burgers and steaks. Alternatively for a gourmet meal the hotel has an award winning Park Restaurant. An added bonus is that the Killarney Park Hotel is located just a 5 minute walk from the train station.
---
Killarney Plaza Hotel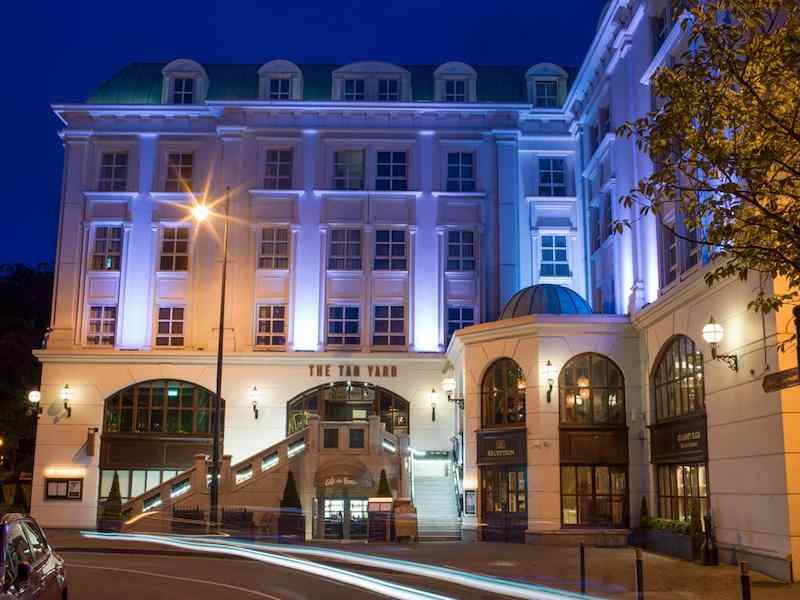 The 4 star Killarney Plaza Hotel is ideally located in the town centre. It overlooks Killarney National Park. All rooms are air conditioned and have free Wifi. The Sundari Spa offer many relaxing treatments and afterwards you can enjoy cocktails in the hotel's Champers bar.
It also boasts a gourmet restaurant and an indoor pool. This hotel offers luxury within reach of so many amenities in the heart of Killarney town.
---
Killarney Towers Hotel & Leisure centre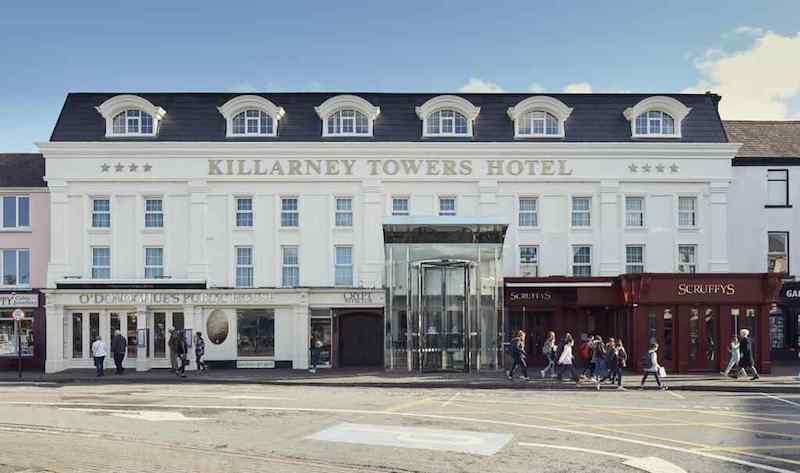 The 4 star Killarney Towers Hotel & Leisure Centre is also located in the heart of the town. This modern hotel offers its guests a range of comfortable and relaxing facilities.
Enjoy excellent cuisine during the day in the lively O' Donoghue's pub that is also loved by the towns locals. During the peak season there is live traditional music every night in the pub. The Killarney Towers Hotel is a set walk from the train station.
---
Killarney Riverside Hotel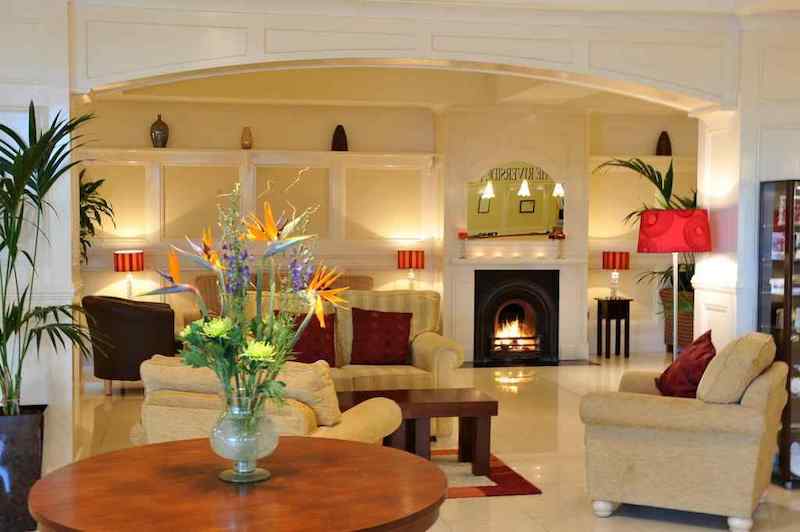 The Killarney Riverside Hotel is in a great location just over 1 kilometre from the town centre. The 4 star hotel overlooks the Flesk river on the Muckross road and is near the famous INEC centre.
The rooms are spacious and all have free WiFi. In the hotel's Rejuvenation Suite you can enjoy a range of holistic and beauty treatments. Enjoy a meal served using fresh local ingredients in The Bacchus Room. The hotel offers 24 hour room service, tea and coffee making facilities and free parking.
---
Scotts Hotel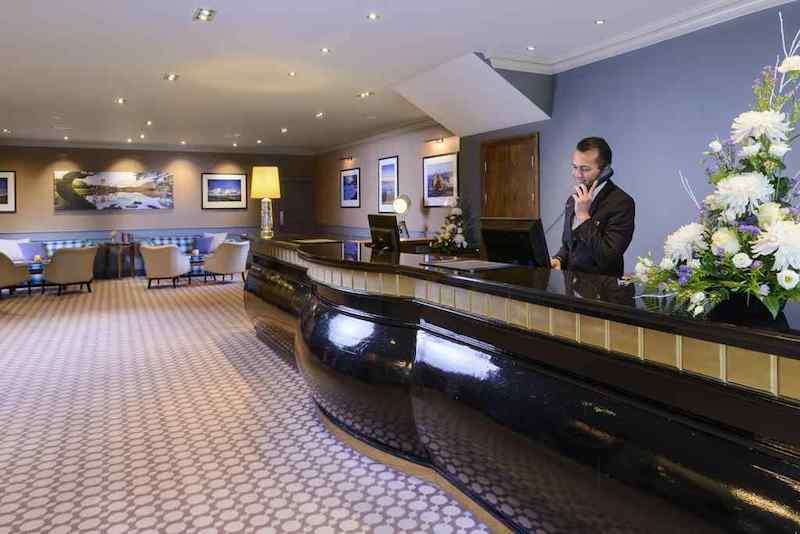 Scotts Hotel with its spacious rooms is conveniently located opposite Killarney's bus and train stations. The 4 star hotel boasts 3 bars and The Courtyard restaurant with floor to ceiling windows. This restaurant serves Irish and International cuisine. After it closes at night light lunches are still available as you enjoy live music.
Scotts Hotel rooms are decorated in light modern colours, with some having a panoramic view of the McGillycuddy Reeks. Free high speed WiFi is also available throughout the hotel. This family run hotel is within walking distance of many must see sights.
---
The Brehon Hotel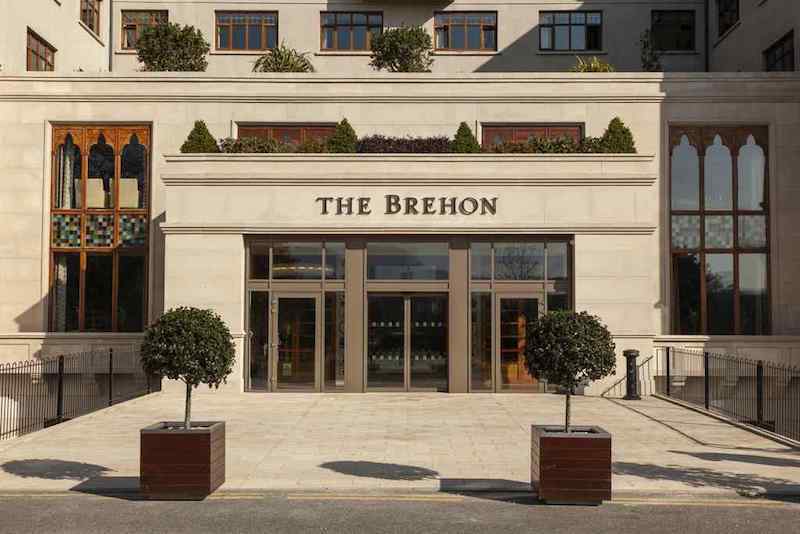 The Brehon Hotel is personally one of our favourites. Every time I see the elegance of this 4 star hotel I am in awe of its design. The decorative exterior design and detail was inspired by Killarney's stately home, Muckross House. Killarney town centre is just a short 15 minute walk and the INEC is just 500 metres from The Brehon.
The Danú restaurant has had numerous awards for their culinary excellence. Overall they offer a food experience that goes above and beyond with locally sourced produce. Everyone is catered for with menu's including vegan options. After noon tea is served daily in the lobby. After your little ones explore the Brehon's fairy garden, the hotel offers a hugely popular kids afternoon tea. This is hosted at the weekend and during school holidays.
The Angsana Spa offers many treatments using natural ingredients including flowers, herbs and fruits in an oriental environment. Choose from a variety of spacious rooms from Deluxe to Family Suites. Every guest is offered free complimentary relaxation time in the Vitality Suite. The Brehon bar offers a wide range of wines, cocktails and bar menu. There is free parking at the hotel.
---
The Gleneagle Hotel & Apartments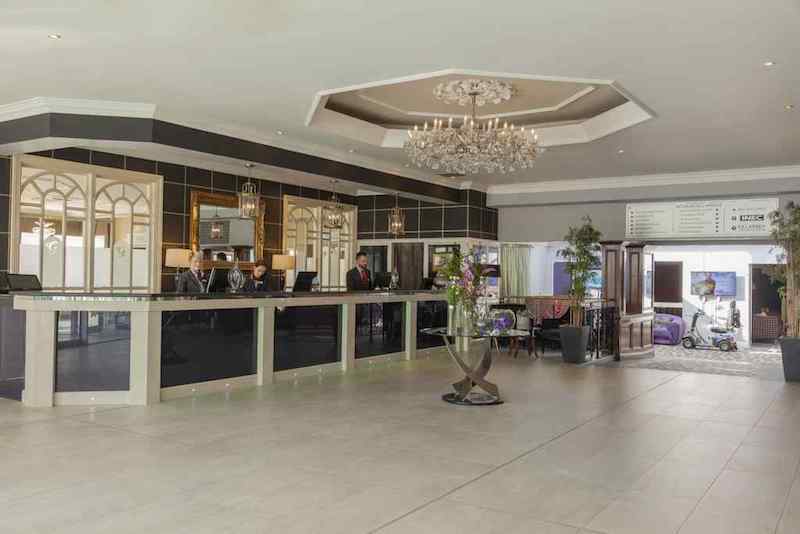 The Gleneagle Hotel is situated on the edge of Killarney National Park. It boasts a 25 metre swimming pool, 2 tennis courts and an 18 hole pitch and putt course. Guests have free entry to the Aquila Leisure Club including 2 squash courts, snooker tables and a 10 metre kids pool. It is a 5 minute drive to the town. The hotel provide a complimentary shuttle bus into the town centre. Upon request they also provide a shuttle bus to and from the train and bus station.
'Ireland's Primary Times' voted The Gleneagle Hotel as one of the top 10 family friendly hotels. You can enjoy a traditional Full Irish breakfast in the Flesk Restaurant while looking at the spectacular views of Killarney National Park. Or later take your pick of exquisite cuisine with a decadent wine list in elegant surroundings.
There are 244 rooms in the Gleneagle Hotel including balcony rooms with views of Killarney National Park. Tea and coffee making facilities are provided and WiFi is available throughout the hotel's rooms.
The Gleneagle River Apartments:
If you would like more spacious accommodation during your stay at The Gleneagle Hotel, look no further than their 4 star River Apartments located just 300 metres away. Each apartment consists of 2 bedrooms, 2 bathrooms, a kitchen and family living area. They sleep up to 5 people comfortably, with all the independence of a self catering holiday. The apartments are serviced every 4 days.
And of course all the amenities at The Gleneagle Hotel you will still benefit from, while having complimentary admission to the hotels in-house entertainment and Aquila Club leisure centre.
---
Murphys of Killarney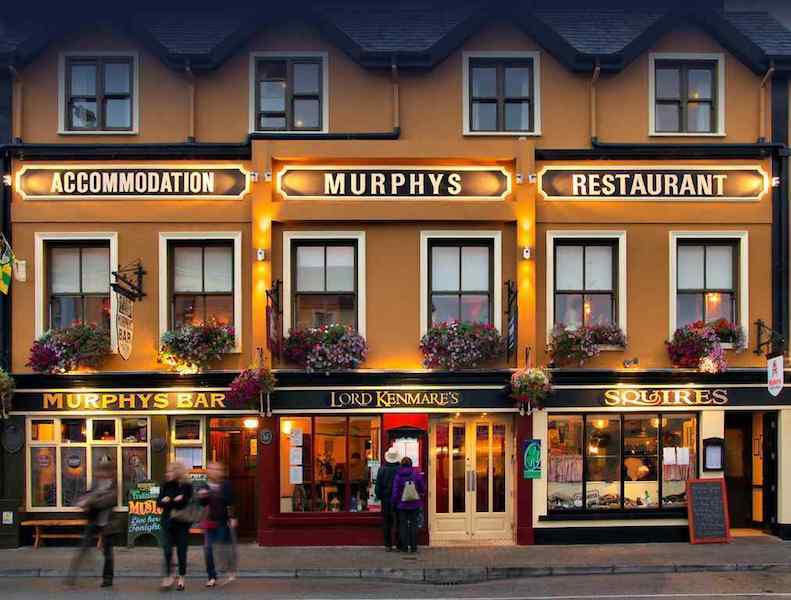 Murphys of Killarney is located near the town centre, adjacent to a large car park while it is close to all the shops and rail and bus station. The spacious rooms are en suite with WiFi. Choose from single, double or twin rooms.
Murphys of Killarney have two cosy bars, Squires Bar and Murphy's Irish pub. Murphy's pub serves food all day. You can enjoy traditional Irish music here. Alternatively you can dine in Lord Kenmare's restaurant. They serve fine contemporary cuisine that caters for a variety of tastes.
---
Eviston House Hotel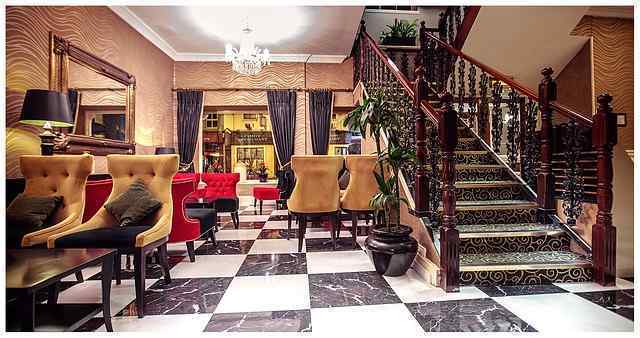 The 3 star family run Eviston House Hotel is conveniently located in Killarney town centre. All rooms have free WiFi power showers and satellite TV. Or choose from a luxurious deluxe room with a whirlpool bath and king size bed. Killarney National Park is just a short stroll away.
The fitness suite have a well equipped gym and fitness machines. The traditional Danny Mann pub features a daily à la carte menu while the Colleen Bawn Restaurant serves Irish and Continental cuisine along with a full size Irish Breakfast Buffet. Eviston House Hotel can arrange a round of golf or a tour of Killarney National Park on request.
---
Hotel Killarney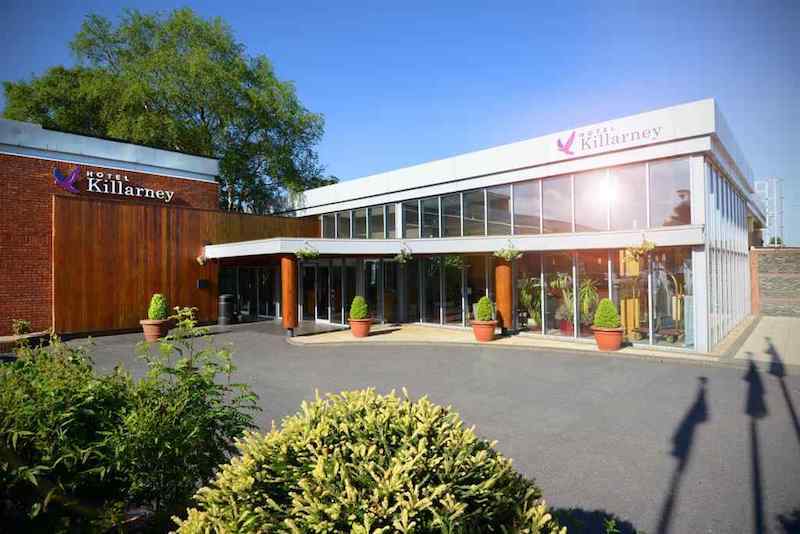 Hotel Killarney is located a short 1.6 kilometres from Killarney town centre. The light and airy rooms feature tea and coffee making facilities and are en suite. Choose from a variety of accommodation options to suit your needs. Family friendly suites are available that are perfect for 2 adults and up to 3 children.
There are fantastic facilities offered in this family friendly hotel including an indoor pool, The Vitae leisure club and outdoor karting. Club Vitae has a swimming pool, sauna, hot tub, modern gym and a sports hall, or enjoy a relaxing massage and treatment. The Friendly Fellows kids club host regular live shows providing entertainment for all the family. Hotel Killarney has activities for all ages including Crazy Cube Play Centre and Indoor Soccer. Bicycle hire is also available.
Lannigans Steakhouse serves fresh local food including chargrilled steaks and homemade burgers. Guests can also enjoy light meals or daily specials in the hotel lobby. Killarney train station is just 15 minutes walk away.
---
The Parkavon Hotel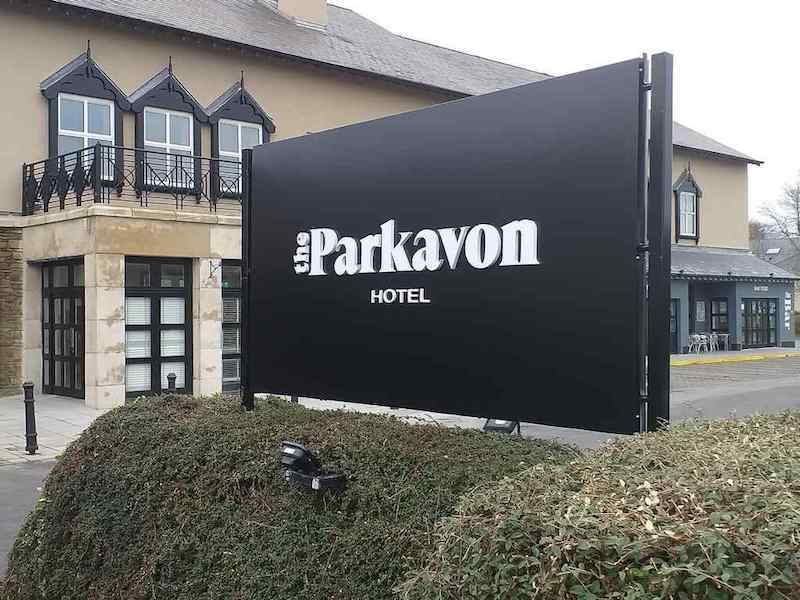 The 3 star Parkavon Hotel is located 10 minutes from Killarney town centre or a 5 minute stroll in the other direction will take you to the INEC. All the rooms at The Parkavon Hotel are en suite with tea and coffee making facilities, hairdryer and a TV. Guests have free access to the hotel's leisure centre. Wind down in the leisure centre, it has a swimming pool, kid's pool, Jacuzzi, sauna, steam room and fully equipped gym.
The restaurant@the Parkavon serve traditional meals with a set dinner menu or a la carte menu. The bar@the Parkavon has four flat screen TV's, the perfect place to relax and watch sports events. The Parkavon Hotel is on the doorstep of Killarney's National Park. It is also an ideal location if you have a car and plan to drive the Ring of Kerry. There is complimentary free WiFi throughout the hotel and free parking.
More Accommodation in Killarney
The above accommodation is just a sample of the great selection in Killarney. For more accommodation click here