Sneem is a picturesque little town on the Iveragh Peninsula in Co.Kerry. It is perfectly located on each of The Wild Atlantic Way, The Ring of Kerry and The Kerry Way routes. The Kerry Way is one of Ireland's longest and most signposted walking trails. The town of Sneem has a population of less than 600 people, it is famous for its colourful houses and characters. Sneem has won many Tidy Towns Awards.
Located approximately 46km from the bustling town of Killarney, the town lies on the estuary of the River Sneem. The Irish village name is 'An tSnaidhm' meaning 'The Knot' in English. There are a few explanations for this name, one of which is that Sneem is the knot in the scenic route of The Ring of Kerry. Another explanation is that a knot like swirling is said to take place where the River Sneem meets the currents of Kenmare Bay in the estuary just below the village.
During the Millennium celebrations In 2000, a time capsule was buried in the town centre. This is to be opened in 2100. A plaque marks where the time capsule is buried.
10 Things To Do In Sneem, Co.Kerry
1 – Visit Blueberry Hill Farm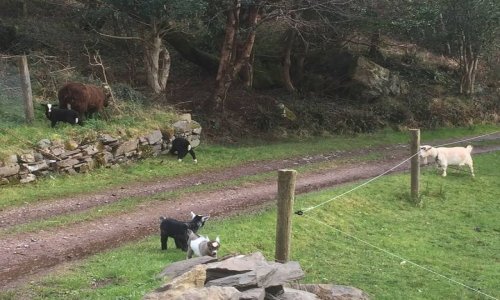 Blueberry Hill Farm offer charismatic guided tours bringing people close to animals in secure environment. It is located less than 1km from Sneem. The farm gives visitors an opportunity to pet and feed a large selection of cute and tame farm animals. There are many tours available. Some of these include:
Family Fun Farm Tours
This tour is a unique hands on guided family farm visit that lets you experience the pleasures of farm life as it used to be, collecting eggs, hand milking, caring for many different adorable farm animals and making butter and scones. Enjoy a tea or coffee afterwards.
The Animal Tour
This tour is ideal for children under 3 years old. It gives children a gentle and close up fun experience with extra friendly farm animals.
Adult Tour
The tour combines an insight intinhomestead farming and hands on animal fun including feeding ducklings, pigs, rabbits, chickens, lambs, geese and lots more. Of course you can also give a calf a cuddle, hold a baby chick and hand feed baby lamb. Watch a stunning tame owl fly up close and learn about bees, vegetable growing and hand milking.
A range of craft courses are on offer and you can enjoy personalised creative learning in a beautiful setting. After you have finished creating your product you can take it home. The courses include basket-making, candle-making, blacksmithing and woodturning.
Blueberry Hill also cater for school tours and birthday parties.
Great fundraisers are experienced at Blueberry Hill farm making fun and crafty candles. They are produced from hundreds of colourful fun shaped candles that are sold with profit that are given for charity.
---
2 – The Way The Fairies Went
Located to the right of St. Michael's Catholic Church in Sneem is a collection of stone structures know as 'The Way The Fairies Went'. They are also referred to as 'The Pyramids' and are overlooking the Sneem river.
Kerry sculptor James Scanlon and local stoneworkers created this magnificent work to celebrate the village wining the National Tidy Towns competition in the year 1987. The Arts Council of Ireland funded the project and it was completed in 1989 – 1990.
The sculptor was inspired by taking long walks through the bogs, rivers, hills and a visit to nearby Staigue Fort. He also got inspiration from the Gaelic place names and folklore. All year long 'The Way The Fairies Went' is accessible and free to visit.
---
3 – Take A Dip In Castlecove Beach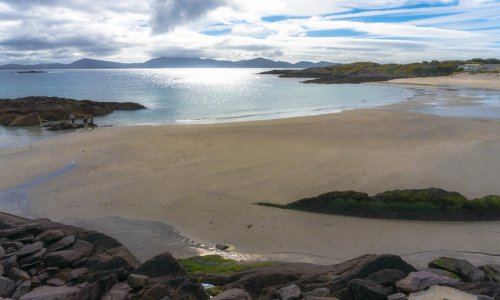 On the South Kerry coastline located 15km from Sneem village you will find Castlecove Beach. It is a beautifully sheltered Blue Flag beach with fabulous coves. The sandy beach has fabulous views overlooking Kenmare Bay and the Atlantic Ocean. The turquoise water laps against the white sand so it is not a surprise that this is a place favoured by local families and tourists alike. It also has a popular beachside restaurant and bar called O'Carroll's Cove. Castlecove beach is directly on the Ring of Kerry route. Sea life can also be found at the beach as seals and dolphins have often been spotted in the water.
---
4 – Visit Staigue Stone Fort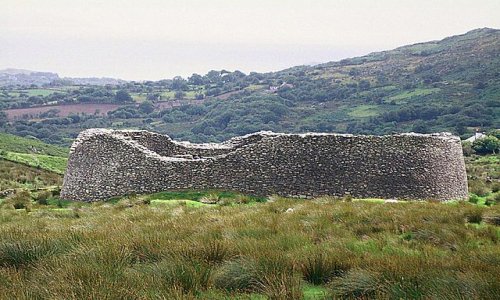 Staigue Stone Fort is a ruined stone ring fort located approximately 19km from Sneem village. It is believed the fort was built during the late Iron Age between 300 – 400 AD as a defensive stronghold for a king or local lord. It is opening South to the sea and surrounded by a ditch that is over 8 metres wide and currently just under 2 metres deep. The fort's walls are up to 5.5 metres high in parts and 4 metres thick at the base. It is approximately 27.5 metres in diameter. Inside the fort can be reached through a roofed passage with double lintels. It is one of the largest and finest ringforts that can be seen in Ireland and overlooking Kenmare Bay.
Staigue ring fort represents a considerable feat in engineering and building of its time as it is built without any mortar and using undressed stones. There is evidence copper was excavated in the surrounding area and it appears to be a place of worship, a place of defence and an observatory.
---
5 – Join The Kerry Way Walking Trail
The Kerry Way is a long walking trail of approximately 214km. It is a circular trail that begins and ends in Killarney and it is Ireland's longest National Waymarked Trails. It takes approximately 8-10 days to complete. The walk way circles the Iveragh Peninsula and it forms a walkers version of The Ring of Kerry. You can join stage 8 of the trail from Sneem to Kenmare. It is a strenuous 30km walking route to Kenmare with one steep crossing to Lacka mountain.
---
6 – Visit Derrynane House and Beach
The lengthly sandy Derrynane Beach is approximately 24km from Sneem village and just over 3.5km from Caherdaniel village also on the Iveragh peninsula. The Blue Flag beach with a natural harbour is ideal for watersports and swimming. Check out the noticeboard on the beach for more information on lifeguard hours.
Derrynane house that was once home to Daniel O'Connell is a 5 minute drive from Caherdaniel. Daniel O'Connell was a a lawyer who became the first 19th century nationalist leader. In Derrynane house you will find many relics of O'Connells life and career that are preserved in the house, sheltered within the woodlands. It was his childhood home and throughout his career it was his country residence. Around 300 acres of land together with Derrynane House make up Derrynane National Historic Park. In 1967 President Eamon De Valera officially opened the house to the public as a museum commemorating Daniel O'Connell. In 1975 the President Cearbhall Ó Dálaigh opened the surrounding park marking the 200th anniversary of O'Connell's birth.
---
7 – Visit Brushwood Studios Art Gallery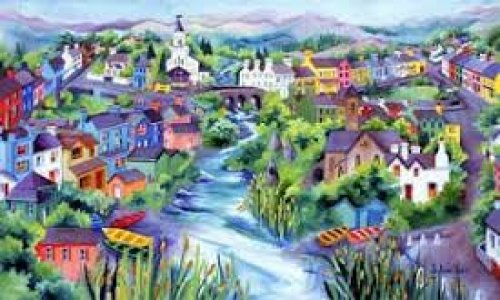 Brushwood Studios Art Gallery is located approximately 5km from Sneem village. Art fans will be spoiled with all the works on display at the studio. They have been painted by resident artists. Their work hangs among old and modern masters in some of the world's greatest art collections. The paintings are displayed in various mediums including pastel, watercolour, oil and batik.
---
8 – Lomanagh Loop Walk Sneem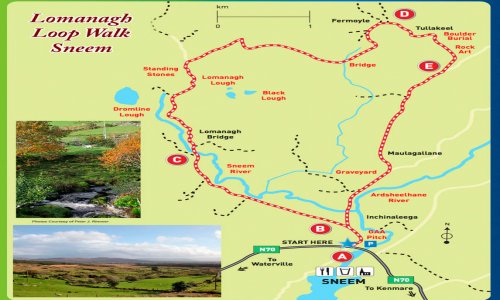 The Lomanagh Loop Walk in Sneem is a 14km moderate walk that begins in the North square of the village. It is signposted throughout with a sign of a walking man symbol. Along the way you can take in features such as the standing stone, rock art, an unconsecrated graveyard and a ceremonial cooking site. Sneem is such a colourful village steeped in history and can be best appreciated exploring the surrounding areas. The walk finishes after passing the graveyard when you arrive back in Sneem village.
---
9 – Kerry Geopark Centre In Sneem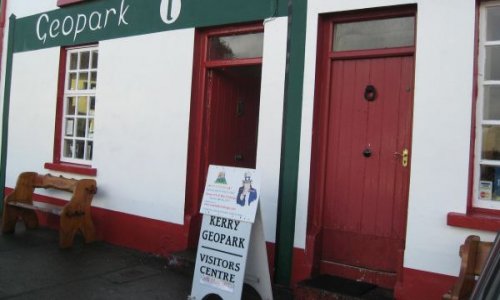 The Kerry Geopark Centre is located in the South Square in Sneem. It is currently displaying two exhibitions. Firstly there are geological representations on display including various types of Sandstone, Coral sand, Quartz, Valentia Slate and Turf. The information panels display geological formation. These include Rias, Corrie Glaciers and Glacial Deposits. The hinterland around Sneem is a haven for those that are interested in archaeology.
Secondly is the William Melville Exhibition. The son of a baker and publican Willian Melville was born in Sneem in 1850. He left for London where he became a policeman and rose to one of the most famous detectives of his time. He headed up Scotland Yard's Special Branch. Famously he befriended Houdini, hunted Jack the Ripper and throughout his career he was involved in the fight against terrorists. After retiring in his fifties he slipped into the world of espionage and MI5.
In the centre you can also find out information on the local area and find out the best sights to see, all free of charge.
---
10 – Go To See The Charles de Gaulle Memorial
The Charles de Gaulle Memorial is located in the corner of the North square in Sneem village. It is a memorial stone dedicated to the memory of a President of France, Charles de Gaulle. Immediately after retiring in 1969 he visited Sneem seeking a haven of tranquillity and peace for 2 years. On the 25th anniversary of his visit the locals commissioned a work of art by sculptor Alan Hall. His bronze plaque was mounted on a large boulder of locally sourced stone inscribed with famous words by former president which are as follows – "At this grave moment of my long life, I found here what I sought, to be face to face with myself, Ireland gave me that, in the most delicate, the most friendly way". In 2019 the village celebrated the 50th anniversary of his visit .
---
7 Places To Stay In Sneem, Co.Kerry
1 – Sneem Hotel
Sneem hotel is in an excellent location approximately a 5 minutes walk from the town centre. It is nestled in Golden's cove on the Ring of Kerry and the Wild Atlantic way. There are excellent views of Kenmare Bay and the MacGilllycuddy's Reeks mountains from the four star hotel. Self catering apartments are also available while still enjoying all the amenities of Sneem hotel. Conferences, events weddings and meetings are all catered for. All year round fantastic packages are available. These include romantic getaways, family packages and activity breaks.
The ensuite bedrooms with balconies are spacious and have air conditioning. There is a large selection of dishes on offer, created from local produce. The hotel's chef buys fish directly from the local fisherman. You might even notice thecae's catch being delivered by boat! The hotel restaurant is open to gusts and visitors may join for breakfast, lunch and dinner daily. Sneem lamb, organic chicken and, beef and mussels are also regularly featured on the menu.
The hotel offers a seasonal kids club and there is a kids playroom for your little ones to enjoy. The Sneem town playground and the local kayak club is also close to the hotel. Sneem hotel is an ideal luxury base while exploring the beautiful South West.
---
2 – Parknasilla Resort & Spa Hotel
The luxury Parknasilla Resort & Spa has panoramic views of the Kerry mountains and Kenmare Bay. It is located approximately 3.5km from Sneem village. The four star hotel has a spa with a swimming pool, thermal suites, outdoor hot tubs and boasts a 12 hole golf course. It is set within 500 acres in a tropical paradise of inlets, islands and hidden beaches therefore offering many activities. Explore several coastal walking trails, boat trips to Kenmare Bay, have a refreshing swim in the sea, play golf or tennis and take a guided kayaking tour. There is also a sandy beach along the hotel boardwalk.
In the hotel's Pygmalion restaurant and lounge the Parknasilla dining À la Carte menu is available from from 12pm-9pm daily and enjoy the views from the bay window overlooking the ocean. Chefs specials are available after 6pm. The dinner menu boasts the best modern Irish cuisine with international inspirations. During pleasant weather you can relax on the hotels terrace and enjoy table service. Breakfast is served daily offering a selection of delicious Irish favourites including warm porridge and a traditional fry. Or choose from a continental style including cold meats, freshly baked pastries, fruit and cheeses. The chef uses locally sourced quality ingredients to create tasty dishes.
The Spa at Parknasilla has an exceptional setting surrounded by beaches, inlets and islands. There is a large selection of treatments available in one of 12 luxury treatment rooms. From the beginning your Spa experience feels enriched by the nature. Summer or Winter you can step out onto the hot tub decking soak in your magnificent surroundings with the Kerry mountains as a backdrop. Parknasilla also has an amazing swimming pool, again with amazing views of Kenmare Bay. The Spa has an air conditioned gym fully equipped with a rowing machine, dumbbells, cross trainer, treadmill, bench and shoulder press and free standing weights.
---
3 – Woodland Villas
Woodland Villas are located on the grounds of the world famous Parknasilla Resort and Spa. They are just a short 10 minute stroll within the grounds of the main hotel. The villas have been furnished and fitted to the highest standards. The three double bedrooms can sleep up to six people. You can experience the comfort of underfloor heating, ambience lighting, flat screen TV's and music systems in the villas. The cosy and comfortable living room features an open fireplace.
There is ample space to sit outside on Summer days and woodland walks are plentiful in the area. All the villa's guests have full access to the facilities and services of Parknasilla Hotel and Spa. This includes the swimming pool, thermal suite, spa, seasonal children's activities, tennis, golf and restaurant.
---
4 – Sneem River Lodge Bed And Breakfast
Sneem River Lodge is located just under 1 km from the centre of the town. It was established in 1998 and is situated in a peaceful setting in Sneem. This luxurious 4 star Bed and Breakfast has bright and airy ensuite rooms with stunning mountain views, power showers, hairdryers, toiletries, free WiFi and a TV. Breakfast is made to order offering traditional Irish or continental dishes. Home baked goods are also available. There is free parking for all guests.
---
5 – Bank House in Sneem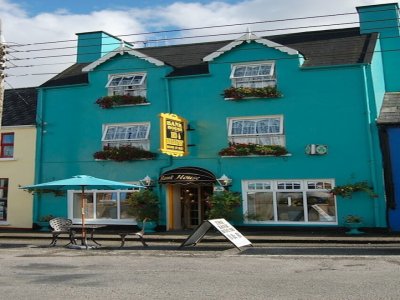 The Bank House is located in the North Square in Sneem village. The house is over 200 years old and is beautifully and lovingly refurbished. The tasty breakfast is accompanied by fresh homemade scones that are baked by the owners along with fresh homemade preserves. Tea and coffee is also served using their own special brews. You are spoiled for choice with fresh fruit and yogurts. It is a very convenient Bed and Breakfast in the town centre.
---
6 – Stone House Bed And Breakfast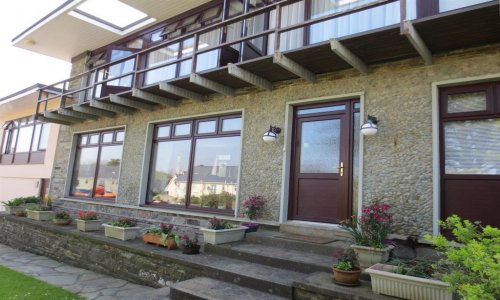 Stone House Bed And Breakfast offers quality accommodation in the heart of Sneem village. It is located in the North Square and conveniently combines a restaurant and accommodation. Stone House is well known in the area for its connections with local sea fishing. Boat men and long service fishermen stay here year after year. Deep sea angling trips are arranged upon request with a local boatman. The restaurant focuses on seafood with a different dish of the day on their specials board.
---
7 – Sneem Holiday Village
Sneem Holiday Village is located in Sneem town and on the Ring of Kerry. Each 4 star house have bright and airy living areas with an open fireplace and French doors leading to your own private garden. The houses have 4 elegant bedrooms decorated with traditional wooden furniture. The spacious modern open plan kitchen has a microwave, dishwasher and oven with full laundry facilities provided. The town playground is across the road from this lovely complex of holiday homes. Each house has a free parking area.
More posts on Cork towns here
Check Out Our Recent Posts